*This fine tribute to a dearly departed Barbarian was penned by Philip Wells and appeared in the May newsletter of the Martelli McKegg law firm, Mike's old workplace.
Michael Campbell McIntosh Cormack
July 23, 1938 – May 11, 2012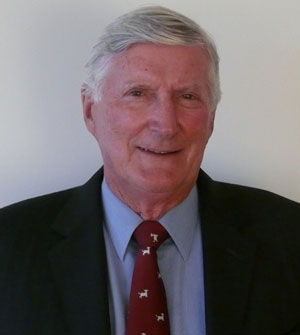 Mike will be remembered for his many attributes, his sharp legal mind, easy gracious personality, competitive nature, sporting prowess, generosity, and his humour.
Mention the name Mike Cormack to most people of my generation and it immediately brings to mind Mike's last minute conversion of Waka Nathan's try at Eden Park in 1960.
That conversion clinched the 18-17 win by Auckland over Canterbury and meant the retention of the Ranfurly Shield. In all, Mike played 45 games for Auckland as a fearless, dependable fullback.
He was also an All Blacks trialist, a member of the 1966 Gallaher Shield-winning University side and in the 1970s coached the Varsity premiers. Mike served as president of the Varsity club in 1987-88 coached the NZ Universities national team and was a life member of the Varsity and Barbarians clubs.
Yes, Mike was an integral part of those glory days of Auckland rugby under Fred Allen's careful eye but there was much more to the man than rugby.
Mike's sporting heritage was undeniable – his mother Jean played golf for Auckland, was a University of NZ tennis titleholder and was named captain of the NZ netball team. His father was also a good sportsman and a very handy golfer. Mike grew up as a very good allrounder – sports included cricket, rugby, tennis, golf, fly fishing and duck shooting.
With his King's College education, abundant charm and a law degree under his belt, Mike spent a couple of years making international friends living and working in the UK where his rugby skills were again evident and Mike had his first introduction as a player for the Barbarians club. His close association with that club was to continue right through his life, including his election to president in 2006-07 and culminating with the naming of the main corporate box in the relocated Baabaas clubrooms at Eden Park as the Mike Cormack Suite.
This honour, which took place just three days before his death, recognised the contribution Mike's perseverance, great negotiating skills and sharp legal mind had made to the successful relocation of the club into the ASB Stand. In typical Cormack fashion, Mike shrugged off all help in spite of his failing health to reply with a brilliant, incisive and humorous speech. It was a fitting tribute to Mike, who was surrounded by family and friends.
While sport was an integral part of Mike's life, it was only one facet. Following his time in the UK, Mike returned to NZ to become a partner of Turner Hopkins before joining this firm in 1977 as a senior partner under its then name of Martelli McKegg Wells and Cormack. Mike remained here until his death and continued to be a skilled and valued mentor to clients, fellow partners and staff. Mike was a favourite amongst all. Our staff were enamoured with his wit, his easy conversational skills, his dancing ability and his occasional renditions in song and dance of those saucy ditties he had soaked up in his rugby days.
Mike never turned his back on those institutions that had helped him. I well remember the many appeals with which he helped or spearheaded unstintingly over the years. They included raising funds for the University Rugby Club's premises at Merton Road, for the completion of the Holy Trinity Cathedral, for the Barbarians Rugby Club and for the King's College Foundation.
In spite of his many other pressures, Mike always had time for family and friends. Annual trips away with his share club were interspersed with holidays which usually involved sporting activity of some sort, often golf. At his home in Remuera and at his beach house at Langs Beach, Mike enjoyed hosting children, grandchildren, clients and friends. From Langs he frequently made the journey north to assist his long-time friend and client Julian Robertson in the setting up of Kauri Cliffs Golf Course, now a world-class course and resort.
Mike's wife Ruth has the hardest road ahead. She has lost not only her soulmate but her golfing partner.