Past Members
Bruce Robertson (1952-2023)
Bruce Robertson was one of the great centres.
He racked up 102 games for the All Blacks from 1972-81, scoring 34 tries in all, while he appeared in 123 games for Counties from 1971-82 (winning the 1979 NPC), scoring 47 tries. There were also four first-class outings for the NZ Barbarians club.
In all, he scored 85 tries in 250 first-class matches with an eye for a gap, the ball in two hands and invariably with a crisp, accurate pass for his grateful wing.
In later years, he was a successful coach and coaching co-ordinator with the Auckland Rugby Union – alongside other late Barbarians Ness Toki and Roger Whatman – the NZ Colts and Counties Manukau. The highlight of Bruce's coaching career was probably assisting the Blues to the 2003 Super Rugby championship.
Made a Barbarian in 1979, Bruce was liked by all who crossed his path. His brother Bill, son-in-law Dion Kingi and grandson Jadin Kingi all played for Counties Manukau.
Bruce had battled illness for several years. His large funeral was held at Pukekohe's Navigation Homes Stadium.
Ray Reardon (1936-2023)
In recent years, Ray Reardon had often made the call to arms for Barbarians in the Bay of Plenty and Waikato regions for fun days and bowls events.
He was, in particular, for many years a staple of the Barbarians team at the Peter Johnstone Memorial Bowls tournament in Mt Maunganui, where he lived in later life.
As a hooker/prop, Ray played 31 first-class games from 1960-66, including two for New Zealand Maori, 10 for Counties and 11 for Waikato. He was great mates with the likes of Fred Graham and the late Pat Walsh, both Barbarians.
As a coach, he had success with Manurewa – with whom he was a life member – during its golden era of the 1980s and with Hutt Old Boys seniors in Wellington. Ray was an adept administrator, too, and managed Counties and other teams within the union.
Ray worked for the Hurricane Wire and Pel Electric companies. He was a member of the Waikato-based Harlequins club, and the Centurions club when he lived in Wellington.
"I'm a staunch advocate of the role the Barbarians and those clubs play in the community. I do whatever I can to assist in the development of the game at large. Our game is much bigger than simply bursting with pride at what the All Blacks have achieved," said Reardon in a profile piece for the club newsletter several years ago.
His son Russell is a Barbarians member.
Tane Norton (1942-2023)
Tane Norton was All Blacks number 694, playing 61 games, including 27 tests, from 1971-77, captaining the side to a series victory over the 1977 Lions.
The hooker also appeared on 26 occasions for the Maori All Blacks – winning the Tom French Cup in 1973-74 – and 82 times for Canterbury in a first-class career that spanned 198 games and 16 years.
A horticulturist and then publican, and always a good, keen Linwood club man, Tane was a genial presence for all Baabaas and rugby visitors to Christchurch. He joined the Barbarians club in 1988.
President of New Zealand Rugby in 2003-04, he was made a member of the NZ Order of Merit (MNZM) in 2006 for services to rugby and in 2008 was awarded the Steinlager Salver.
The crowd observed a minute's silence for Tane before the August Bledisloe Cup test in Dunedin and before all round one NPC matches.
John Murphy (1933-2023)
John Murphy was a hooker who played nine games for Auckland in 1961 under Fred Allen during the great Ranfurly Shield era of the time, as well six other first-class games for Auckland B in 1960 and '63.
A former construction project manager, John joined the Barbarians in 1972, still in his 30s.
At club level, John was in the heart of the Waitemata scrum and won a Gallaher Shield in 1962 under the coaching of the late Barrie Hutchinson and the captaincy of Barbarian Adrian Clarke.
In 1963, he was part of 'one of the giant packs of all time' in the Baabaas team versus Counties to fundraise for injured Counties players. In 1974, John Hart invited John to be assistant coach, looking after the forwards in the Waitemata seniors. That team narrowly missed winning the championship but clinched the Gallaher Shield the next year in 1975.
Ron Palenski (1945-2023)
Ron Palenski, a Barbarian since 2015, was one of New Zealand's foremost rugby historians and authors and was prolific in his field, though he also dabbled in military and general history.
His last book was the 2021 Brutal on the storied rivalry between the All Blacks and Springboks. The launch for his 2015 book Rugby: A New Zealand History, was held at the Barbarians clubrooms.
Ron was a former chairman of the Otago Rugby Union and was the chief executive of the Dunedin-based New Zealand Sports Hall of Fame.
Ken Eglinton (1939-2023)
Ken Eglinton was a life member and former President of the Barbarians and had been a member of the club since 1980.
This was penned soon after he was made a life member at the 2012 AGM:
'In his playing days, Ken was a fine, tenacious wing who represented Otago University, Otago (27 games from 1960-62) and New Zealand Universities, while he was also an All Blacks trialist. Often during Otago v Auckland clashes, he would mark fellow Barbarians Don McKay or John Sibun.
'After he headed north, he joined the Takapuna club, and his work as a coach and administrator led to life membership of that successful North Harbour club.
'Ken served as Barbarians secretary from 1997-99 and President from 2002-03. He went to England with the Barbarians tourists of 2003, a tour which yielded a financial windfall for the club, and was active and indefatigable in his work on behalf of the club.'
John Hunt (1950-2023)
John Hunt was a life member of the Auckland Marist club, serving Marist in a variety of roles, including President from 2010-12, over more than 40 years.
A champion of the grassroots, John was just a good bloke, well liked by all. He served as a director on the Auckland Rugby Union board and was chair of the council of delegates from 2008-13.
During the 1970s and '80s he served in the New Zealand Army, posted to the Middle East, among other regions.
Trevor Esterman (1929-2023)
Trevor Esterman, whose funeral was held last month in Tauranga, played for the Grammar Old Boys club, as it was then known, out of Auckland Grammar School, through the 1940s and '50s.
He was a great mate of the late Barbarians member and Auckland wing Lyn Russell, who recalled that Trevor was a valuable member of the club and often played in the Sunday Baabaas matches that were vogue at the time.
Don Dormer (1938-2023)
Don Dormer died after a long illness, but was an enthusiastic supporter of club activities until a few years ago.
He was the 26th President of the club, serving from 2004-05, and was made a life member not long after that.
In his playing days as a goalkicking fullback, Don played two games for Auckland (1960 and '65) out of the College Rifles and Takapuna clubs, and 17 games for Wanganui (1963-64), as it was then, out of the Marton Athletic club. He also appeared for Auckland B and the Vikings club in a 27-match career.
Roger Whatman (1946-2023)
Roger Whatman was a fine, reliable, fullback for Auckland Grammar School First XV, the Manukau Rovers club, with whom he won two Gallaher Shields in 1968 and 1973, the 1967 NZ Juniors, and for Auckland in 61 games from 1968-73, winning a Ranfurly Shield and impressing with his accurate boot and solid allround play.
He became a very good coach and was an astute thinker of the game. In later years, he bemoaned the demise of the spiral punt. In more recent times, he was a fixture, along with wife Sherralyn, on the Barbarians bowls team for the annual pilgrimage to Tauranga for the Peter Johnstone Memorial tournament.
His stepson Bevan Overend and brother-in-law George Duncan are both Barbarians.
Bill Currey (1944-2023)
All Blacks No 671 Bill Currey was a threequarter who played eight games for his country, scoring seven tries, on the 1968 tour of Australia.
The highlight was a hat-trick on debut against Tasmania.
A product of Auckland Grammar School's First XV, he played his club rugby for Grammar in Auckland and Opunake and NPOB in Taranaki, racking up 31 tries in 81 first-class games, mainly for the 'Naki. He also appeared for the NZ Juniors in 1967.
A teacher by profession, he was later an insurance agent. His father Leslie Currey played for Auckland in the 1930s.
Tom Johnson (1938-2022)
Tom Johnson was a real identity in a great era of Hawke's Bay rugby, captaining the side in 50 of his 84 games, though he did also play for Counties, Waikato and Auckland in a long career as a loose forward.
Johnson was also a President of Hawke's Bay's Saracens club and in 2011 was made a Member of the Order of NZ (MNZM) for services to rugby, having served from 1973-85 on the NZRFU council. He also helped drive the launch of Golden Oldies rugby in 1979.
He held the launch of his 2014 book Legends in Black at the Barbarians club and it was nice that he was again able to visit the club last year, albeit in a wheelchair.
Kevin Way (1944-2022)
Kevin Way was a regular and amiable presence behind the bar in recent years until illness took hold.
He was a good wing for Auckland University, winning a Gallaher Shield with that club in 1966, the same season he made two first-class appearances for the Auckland Colts.
Willie Los'e (1967-2022)
A fuller obituary of the colourful rugby life of Willie Los's appeared in an earlier email newsletter.
The loose forward with a flamboyant personality played for NZ Schools, NZ Colts Auckland, North Harbour and Marlborough, but his career highlight was captaining Tonga at the 1995 Rugby World Cup.
He carved a 20-year career in media, both on TV and radio, and was always willing to help promote the Barbarians name.
Dick Littlejohn (1931-2022)
To distil Dick Littlejohn's achievements in rugby into a few short sentences is a challenge.
Though he did not have an extensive playing career, it was in administration and management that Littlejohn shone. He was the All Blacks manager in 1984-85 after doing years of service for the Bay of Plenty Rugby Union. He was one of the drivers for the establishment of the first Rugby World Cup in 1987, which led to his induction into the World Rugby Hall of Fame in 2011. A life member and patron of the Bay of Plenty union, he was made a life member of NZR in 2018. His service to NZR included a 1981-88 stint on the council. A Whakatane man, Littlejohn worked in his business well into his 80s.
Laurie Smith (1931-2022)
Dr Laurie Smith played 25 first-class games as a goalkicking threequarter from 1953-55, appearing for the NZ Barbarians, NZ Universities, South Island, Otago and Auckland, as well as winning an All Blacks trial. His two clubs were Otago University and Auckland University. One son, Richard, played for NZ Universities in the 1980s while another son, Jamie, was the Black Sticks hockey captain in the 1990s.
Colin McDonald (1931-2022)
Colin McDonald described, in this newsletter a few years back, one of his real career highlights as scoring two tries for the Barbarians against Auckland in 1955 at Eden Park: "It was a great thrill to be selected out of the blue."
He was good enough to be an All Blacks trialist and scored 23 tries in 57 games for Canterbury from 1954-59, part of which was in a fine Ranfurly Shield eras.
He had been a chairman of the Cantabrians club and in later years he lived in Wanaka.
Ian Begbie (1943-2022)
Though Ian 'Biggles' Begbie played 57 games as a loose forward for Waikato out of the Taupiri club from 1963-72, he was latterly a Northland rugby man, and was a member of the Vikings club in that province.
Begbie had an All Blacks trial in 1970, His son Mark played for North Harbour and the Vikings.
Alex Austin (1932-2022)
 Alex Austin was a forward who played a first-class game for Auckland B out of the Marist club in 1959.
He also captained the Auckland Colts. His father Harry Austin played for Auckland and Bay of Plenty. Austin became a life member and vice-patron of the Pakuranga club after his playing days, having served as President of that east Auckland club for a while
Bryan Craies (1937-2022)
The one and only 'Craiesy' had a deep and abiding passion for the Barbarians club.
He was one of the early drivers of the Barbarians' support for middleweight (U85kg) rugby, from which a trophy is named after him, and was often found behind the bar until recent years when hit by ill-health.
Barbarian Phil Gifford penned a moving tribute to him that appeared in both Rugby News mag and the Herald online, highlighting the fact he never toed the party line and was fiercely loyal to his players.
Craies played 11 games for Auckland as a halfback from 1963-65 out of the Waitemata club, but he also turned out for Ponsonby. He coached Auckland from 1978-81, the high water mark being the victory over North Auckland to win the Ranfurly Shield in 1979.
His son Brett Craies is a Barbarian.
Terry Dunleavy (1928-2022)
 A man of many talents who was made a Barbarian at the age of 85, Terry Dunleavy loved his family, rugby, softball, journalism and sports writing, wine, music, literature, Samoa, Auckland and its rugby, the Auckland Marist club, Maoritanga and the fa'a Samoa.
His love of Samoa was fostered when he lived on Upolu from 1950-58 and was editor of the Samoan Bulletin while also a sport commentator in Apia. Before then he was the youngest editor of a New Zealand provincial newspaper in Pahiatua. In 1976, Dunleavy started the NZ Wine Institute. In later years, he was a regular at Eden Park as President of the Auckland Rugby Union Supporters' Club and a trustee of the Auckland Junior Rugby Foundation.
His funeral was held on the same day as that of Joeli Vidiri in early March.
Joeli Vidiri (1973-2022)
 In the conversation as the finest ever Blues No 14, Joeli Vidiri played for both the All Blacks (1998, 2 tests) and Fiji (1994-95, 7 tests) in a career that saw him run in 114 tries in 153 first-class outings.
Vidiri was the 1996 NZR Super Rugby player of the year and went on to win two titles, plus a gold medal for the NZ Sevens at the 1998 Commonwealth Games. A smiling presence for many years at the Pukekohe Mitre 10 store, Vidiri, despite ill-health, gave back to the game by coaching his Pukekohe club and the Counties Manukau Sevens.
Dr Dave Caughey (1932-2022)
Known as a real gentleman of the game, Dave Caughey was a lock for Otago, Auckland, and NZ Universities during the 1950s.
A cousin of Sir Harcourt 'Pat' Caughey, the younger Caughey played in the famous NZ Universities' victory over the Springboks in 1956, the greatest day in NZU history. He was also an All Blacks trialist in 1959. In 1956-57, he was a double Gallaher Shield champion with Auckland University. In 1966 he added to his Varsity laurels as assistant coach of the 1966 Gallaher champs, and then took the prems as head coach in 1967-68. Later in the 1970s, he was President of the club and was a welcome presence sideline until recent years.
Caughey was a rheumatologist by profession.
Jack Campbell (1930-2021)
 Like Morrow, Jack Campbell died in 2021 but the club was only recently advised of his passing.
Campbell played two games as a front-rower for Auckland in 1954, the same year he won the Gallaher Shield with his Ponsonby club. He was the sole surviving member of that side before he died. He became a Barbarian in the 1960s when coaching the Ponsonby seniors and third grade, when the likes of Ces Williams and Keith Nelson came under his tutelage. He moved to Whangamata and served as the Thames Valley delegate to the NZRFU. A 23-year chairman of the Coromandel District Council, he received a QSM along with a Gold Star for services to the NZ Fire Service a few years ago. His funeral was held at the Whangamata Rugby Club.
Alan Morrow (c.1934-2021)
 Alan Morrow died in 2021 but the club was only recently advised of his passing.
He played 49 games as a hooker for Auckland out of the North Shore and Grammar clubs between 1955 and 1963. A farmer who was educated at King's College, Morrow was an All Blacks trialist in 1957.
Waka Nathan (1940-2021)
Waka Nathan was a great figure in New Zealand, Maori and Auckland rugby and not just for his impressive first-class playing career from 1959-67.
The French dubbed him 'The Black Panther' for his feline-like displays as a loose forward, but he had already made his mark by scoring one of the most famous tries in Ranfurly Shield history, in 1960 versus Canterbury at Eden Park.
In all, Nathan played 88 games for Auckland out of the Otahuhu club during a great era for the province, and thrived under his old provincial coach Fred Allen in the All Blacks. He played 37 games, including 14 undefeated tests, from 1962-67 for the men in black.
In all, he scored 55 tries in 172 first-class games, including five in 17 games for the Maori All Blacks. He was the Tom French Cup winner for Maori player of the year in 1962 and 1966.
A breweries rep and butcher, Nathan should always be given credit for driving a resurgence in Maori rugby during the 1970s. He was coach and later manager of this side, which he held close to his heart.
President of Auckland Rugby in 2003-04, he was a life member of the union and the Maori board. In later years, though his health was declining, he was still a welcome visitor to the Barbarians lounge with his ready and famous smile.
Bob Graham (1936-2021)
Several men were unlucky to miss All Blacks selection down the years.
Bob Graham was one of those, a fine loose forward for the great Auckland team of the late 1950s and '60s. He racked up over 100 games for the union and captained the team during most of its great Shield era of 1959-63. Along with myriad All Blacks trials, he represented NZ Universities and the North Island. His club rugby was for Auckland University, which he later coached to the 1974 Gallaher Shield.
Retiring early to focus on his accountancy career, Graham was selector-coach of Auckland from 1967-69, starting at the uncommonly early age of 30.
A life member of Auckland Rugby, after serving as President from 1993-95, he also was the Barbarians club President in 1982-83, but he was fully involved in many other spheres of life, as life member of the Halberg Trust, a board member of Diocesan School for Girls, and as senior partner at Brown Woolley Graham.
In later years he enjoyed watching his grandson play Under 85kg rugby at Merton Road. His grand-daughter Hannah is married to Beauden Barrett, also a Barbarians member.
Graham was the brother of the two late rugby knights, Sir Jim and Sir John. He held strong views on rugby and many areas of life, but always stuck to his guns.
Ces Williams (1942-2021)
Ces Williams was older brother of our patron Sir Bryan Williams and, like Beegee, a life member of the Ponsonby club.
A prop, Ces played over 100 games for the senior reserves and filled myriad positions within the club, including President, coach, manager and mentor. Under his Presidency, Ponsonby won two Gallaher Shields (2010-11) in its run of eight, his son Brett, the club's leading points scorer featuring (he played an incredible 10 in all).
Ces Williams was made a Barbarian in 2015.
Don McCaskie (1938-2021)
Don McCaskie was the first man to raise a century of games for Manawatu.
In all, the farmer played 101 games for the province from 1956 to 1967 out of the Rangiwahia and Oroua clubs as a halfback, and was captain of the side in 1966-67.
McCaskie's brother John and son Robert also played for Manawatu.
Jim Blair (1935-2020)
Jim Blair was the man who revolutionised rugby fitness in the 1980s.
The Glaswegian, who emigrated to New Zealand in the 1960s, came from a soccer background, but he soon realised that props should not be doing the same training as the wings in the oval ball code.
After helping Alex Wyllie with NPC champion Canterbury in 1983, John Hart brought him into the Auckland fold, where his famous skill grids helped turn the blue and whites into a great handling team that was never bettered for fitness. Blair went on to help train the 1987 All Blacks and he was still involved with the Blues at the dawn of Super Rugby. In latter years, he lived on the Gold Coast and was suffering from dementia at his death.
Bevin Allen (1943-2020)
"Were all going to miss Bevy… always optimistic, interested in what you were doing, and one of the all-time good guys."
That quote from his eulogy sums up Bevin Allen, a top bloke and a rugby man. He was a fine, tigerish halfback for Waitemata for many years in the 1960s. Before he turned 30, he was into coaching, taking the championship-winning 1972 Waitemata third grade. In the early 1980s he coached Massey from third division to first in just three years.
One of his proudest moments came when he was inducted into the Barbarians club, nominated by his great Waitemata mate Adrian Clarke and seconded by Colin Meads.
Allen was a councillor for Waitemata from 1977-80, being chairman of works. He was also a founding member of the Waitemata Lions club, being president in 1979. He later worked in real estate.
His funeral was muted due to level 3 lockdown in Auckland, but he was farewelled at a Melbourne Cup event at Ellerslie racecourse, fitting for a man who had much to do with the racing industry and loved his nags as much as his rugby.
Phil Kingsley Jones (1948-2020)
Phil Kingsley Jones is best known as Jonah Lomu's first manager at the height of the late, great wing's fame.
But Kingsley Jones, born in Wales, was a rugby man to his core. He emigrated to New Zealand in the early 1980s, where he was a much in demand comic, speaker and raconteur. He was a front-rower for the Mt Wellington club before moving into coaching – taking Tonga to the Rugby World Cup – and then working for the Counties Manukau union over nearly 30 years. He was later ambassador for that union. His son Kingsley played for Wales and now coaches the Maple Leafs of Canada.
Kingsley Jones was only a Barbarian for a few years, but he was a proud member of the club. His great mate 'Beegee' Williams put together a 'Tutira Mai' musical tribute to him from members.
Barry Main (1934-2020)
Barry Main had lived in Australia since 1977, but he was secretary of the club from 1964-76 and treasurer from 1965-70.
Out of Sacred Heart College, he played on the wing for Auckland Marist through the 1950s and '60s while working for AMP Insurance. Main was also a very good cricketer, who played in the City and Suburban league at the Auckland Domain. His father Arthur Main was manager of Fred Allen's 1959 Auckland team.
Eddie Tonks (1934-2020)
Eddie Tonks was chairman of New Zealand Rugby from 1990-95 and was made a life member of the union in 2004.
Barbarians club President Alan Whetton called him "a great ambassador for the game and one who bled rugby."
Tonks also served as chairman of the IRB during a time of great flux for rugby. He had his exporting company and was prominent on the Wellington rugby scene, becoming a life member of the old Onslow club. He was on the NZR board during the lead-in to the first Rugby World Cup.
Frank Colthurst (1938-2020)
It was fitting for a fine man of rugby that Frank Colthurst's wake was held at Northland's Kamo Rugby Club.
As a hooker, he played 49 games from Auckland from 1959-64, 27 for Thames Valley from 1965-67 and 45 for North Auckland from 1968-76. Nine All Blacks trials told of a one who was perhaps unlucky not to wear the black jersey.
A stock agent, Colthurst went on to coach North Auckland in 1980-82. He was also a member of the Northland Vikings club.
John Carter (1938-2020)
As a halfback, John Carter senior played one game for Auckland in 1960 and four first-class games for Auckland B from 1960-67. He was a life member of the Suburbs club and helped coach the premiers to the 1977 Gallaher Shield. Carter was also manager of the Auckland team in the late 1980s and early '90s. He was the father of John and Mark, both of whom played for Auckland.
'Dick' Hurn (1931-2020)
Dick Hurn gave sterling service to Wanganui rugby for more than 60 years.
He was a lock or prop for Wanganui (out of the Marton club) in 32 games from 1956-59 and in 23 games for Manawatu (Feilding club) from 1951-54. Hurn was a noted administrator in the Rangitikei sub-union, and was a life member of that sub-union, the Wanganui union and the Marton club. He was an inveterate collector of rugby memorabilia and was also a keen tramper.
William 'Haddon' Vernon (c.1930-2020)
William 'Haddon' Vernon played 27 games for Auckland from 1949-53 as a five-eighth/threequarter out of the Takapuna club, along with two games for Canterbury out of the Christchurch club in 1955. Vernon had three All Blacks trials and appeared thrice in first-class games for the NZ Barbarians. Vernon was a fine cricketer and successful businessman later in life.
Dennis Young (1930-2020)
Dennis Young was a fine All Blacks hooker in 61 games (22 tests) from 1956-63.
Not big in stature, he was big in heart and as tenacious as they come. Young racked up 137 games for Canterbury from 1950-63. He served as President of the Canterbury union from 2003-04. His work life was varied: cabinet-maker, teacher and founder of a travel company.
Andy Haden (1950-2020)
One of the great lineout lock forwards, Andy Haden was All Black No 716, playing 117 games (41 tests) from 1972-85, captaining the team on eight occasions. He also racked up 157 games for Auckland from 1971-86, winning three NPCs and leading the team that won the Ranfurly Shield in 1985. From 1976-86 he won no less than seven Gallaher Shields.
Haden was outspoken and pushed hard for the loosening of the amateur regulations. Later he established Sporting Contacts, and was a successful businessman. He was a driver of the Classic All Blacks on their regular pilgrimages to Bermuda.
As President AJ Whetton said of his old All Blacks and Auckland teammate, he holds a very special place in the Barbarians club. A large crowd gathered for his Eden Park funeral earlier this month.
Peter Hall (1927-2020)
Peter Hall was a hard-nosed, no-nonsense, loose forward in 32 games for Auckland from 1952-57 out of the Otahuhu and Grafton clubs.
His nickname was, appropriately, 'Cement.' Hall was made a life member of the Otahuhu club in 1980 and the Auckland Rugby Union in 1995, serving as the Otahuhu delegate to the union for some three decades.
His brother Ken was a prop for Auckland and Taranaki in the 1940s-50s, while his father 'Con' played for West Coast (also in league) and Buller around the time of the First World War.
Tony Aston (1938-2020)
A pacy wing, Tony Aston played for North Island Universities and NZ Universities (1960-62), scoring four tries at first-class level.
He played for the Auckland University premiers from 1960-63 before giving the game away early and giving great service to his club. He was president in 1982-83 and helped start up, with Mike Cormack, the Keystone Foundation, which established a sound financial position for the club.
An old boy of Mt Albert Grammar and contemporary of Peter Snell, Aston was a gifted middle-distance runner who was said, along with Mike Macky, to have persuaded Snell to give away rugby and pursue athletics, also introducing Snell to Arthur Lydiard. We know what came of that partnership.
Owen Gleeson (1932-2019)
Another elder statesman of Manawatu rugby died at the end of last year.
Owen Gleeson played 24 games for Manawatu as a loose forward from 1954-57, and went on to be a coach, selector, president and life member of the union.
His brother was the 1976-78 All Blacks coach Jack Gleeson, who also played for Manawatu from 1947-55. His son Mark serves on the Manawatu board, while his father William played for Marlborough and Manawatu-Horowhenua from 1922-30.
Sam Strahan (1944-2019)
Just last year, Sam Strahan, one of a clutch of Manawatu Barbarians, helped present the jerseys for the NZ Barbarians Area Schools team and was an active presence in any Barbarians activities in the region.
All Black number 657, the lock played 45 games, including 17 tests, from 1967-73, and 70 games for Manawatu from 1965-76. The big farmer went on to serve as Manawatu union president from 2003-06 and was a life member of his Oroua club.
In an article published in Rugby News after his sudden death just before Christmas, he advocated the return of rucking.
Steve Nobilo (1940-2019)
Rugbyman, winemaker, raconteur, golfer, allround "good bugger".
These were some of the many strands to the life of Steve Nobilo. He played on the wing for Auckland's Waitemata club in the 1960s, sharing in the 1962 Gallaher Shield triumph, alongside the likes of Wally Jelicich and Adrian Clarke. Nobilo was good enough to feature for the Auckland Bs.
He was known as 'The Golden Drop', not for any loose handling on the flanks, but for his wine-making. His father Nikola founded Nobile Wines.
A great mate of our very own Bryan Craies, Nobilo was a staunch supporter of the Waitemata club in later years. His other sporting love was golf, and he was a regular at the Muriwai GC.
The great golfer Frank Nobilo is believed to be a cousin.
Grant 'Chum' McLeay (1946-2019)
Known to all as 'Chum', McLeay was a tigerish loose forward (aren't they all?) for Grammar in the 1960s and '70s, winning a Gallaher Shield in 1972 alongside the likes of Lawrie Knight and Bruce Gemmell.
He also played one game for Auckland in 1972 and three other first-class games for Auckland B from 1970-72. He played social rugby after his seniors days were done. A lawyer by trade, McLeay served on the ARU judiciary for many years.
He was made a Barbarian in 2016 and died after a battle with cancer. His wake was held at the Barbarians clubrooms.
Dr Matt Marshall (1927-2018)
Dr Matt Marshall actually died over a year ago, but his passing has only just been brought to the attention of the Barbarians club.
A long-time Barbarian, the Scotland-born Marshall was a legend in Northland sporting, let alone rugby, circles. Apart from being the North Auckland team doctor for some 34 years, he was also the New Zealand team doctor at several Olympics and Commonwealth Games, and was also a life member of Sports Medicine NZ. In 2012 he was inducted as the 23rd Legend of Northland Sport. If that is not enough, Marshall was also an Officer of the New Zealand Order of Merit.
Hiwi Tauroa (1927-2018)
Hiwi Tauroa died at the end of last year, but his passing was omitted in our previous obits.
He will always hold a special place in Counties rugby folklore, coaching the Steelers to the 1979 NPC title.
His first-class playing career for NZ Maori, NZ Universities, Manawatu, Taranaki and Auckland B as a fullback yielded 26 games from 1950-55. A schoolteacher by profession, he went on to be Race Relations Conciliator from 1979-86.
Frank Rogers (1924-2019)
Frank Rogers, who died in January, was not, as thought by many, the brother of the late 1974-75 Barbarians President Allen Rogers.
But he did play for the same Grammar side, captaining the club to the 1951 and '53 Gallaher Shield titles as a rugged loose forward, and was a great mate of the late Alan McEvoy, after whom the shield for first round Auckland premier club supremacy is named.
Rogers' first-class career was restricted, due to some stiff competition, to seven first-class games, four for Auckland B and three for the Barbarians. In later years, he was a solid supporter of Grammar, including its latest reincarnations, and enjoyed the conviviality around Barbarians bowls days.
Micky Steele-Bodger (1925-2019)
The one and only Micky Steele-Bodger, CBE, was the long-time President of the UK Barbarians.
A Cambridge University man, he was also a rugby man to his cotton socks, a fact many NZ Barbarians, including Sir Bryan Williams and Rob Fisher, can attest. It was not just the fact he was a loose forward for England, the Barbarians and Harlequins. He loved a drink and had phenomenal stamina, but was a central figure in the prominence given to UK Barbarians fixtures, not just in Britain but around the world.
Steele-Bodger was also very helpful in the signing of the trademark licence agreement between the two Barbarians clubs in 2016.
Percy Erceg (1928-2019)
Percy Erceg was another great rugby man of the north who played nine games, including four tests, for the All Blacks in 1951-52 as a wing.
He also appeared for NZ Maori, North Auckland and Auckland in a 78-game career, winning the 1951 Tom French Memorial Cup as the outstanding Maori player of that season. Erceg went on to be a selector, manager and coach of the NZ Maori team, and was a life member of the NZ Maori Rugby Board.
Jim Maniapoto (1942-2019)
'Jim' Maniapoto was one of three brothers – the others being Huri and Manu – who played first-class rugby in the Bay of Plenty.
Jim was the third centurion out of the union – his brother Manu was the first – racking up 105 games, for 13 tries, as a lock. But he also played for NZ Maori, Auckland, Thames Valley and NZ Colts in a long career that stretched from 1962-75.
Bay of Plenty Rugby Union chief executive and Barbarian Mike Rogers had this to say about Maniapoto: "He was a great man with great mana. He will be missed. His whanau name is synonymous with Bay of Plenty and Maori rugby."
Sir Brian Lochore (1940-2019)
Sir Brian 'BJ' Lochore was one of the great men of New Zealand rugby as All Blacks No 8, coach, selector, campaign manager and mentor.
Lochore was All Black No 637, playing 25 tests (among 68 games) from 1963-71 out of Wairarapa. In the 1980s he helped Wairarapa-Bush walk proudly with the giants in the NPC first division and then coached the All Blacks from 1985-87, recording famous wins with the 1986 'Baby Blacks' and guiding the 1987 side to RWC glory. He was campaign manager for the 1995 All Blacks to the RWC in South Africa and from 2004-07 he was an All Blacks selector. A man of mana, Lochore's wisdom was always highly valued in rugby circles.
Barrie Hutchinson (1926-2019)
John 'Barrie' Skilbeck Hutchinson – 'Hutch' to all – was a great rugby man of the Auckland Rugby Union, the Auckland University Rugby Club and Varsities rugby in general.
Hutchinson was made a life member of the Auckland University club at the 2005 AGM and was also accorded life membership of the Auckland Rugby Union. Along with a stint as NZU selector, he was the Varsity club president from 1974-75 and filled the same role with the Auckland union from 1979-80.
As a player, Hutch was a solid prop or lock (a la Phil Lindesay) good enough to appear in four All Blacks trials in the 1950s. He debuted at first-class level for Auckland B in 1949. Auckland rep #819, he played 21 games for the union from 1954-59, scoring two tries for six points.
Much of the 1950s was spent travelling back and forth to Wellington, where he gained his MA from Victoria University and played for Wellington on 32 occasions out of that club. But he did find time to win at least two Gallaher Shields with Auckland University.
His playing highlight was surely the epic 1956 NZ Universities' 22-15 win over the Springboks at Athletic Park.
He delved into coaching and led Waitemata to the 1962 Gallaher Shield title before rejoining Varsity. From 1969-72 he coached the seniors, winning the 1971 Gallaher Shield, thus cementing the rare achievement of winning a Gallaher as a player and then as coach at two different clubs. He was said to bring a cerebral, erudite approach to coaching rugby, regularly quoting poetry and Shakespeare, a forerunner to the one and only Bryce Bevin.
Ian Eliason (1945-2019)
All Black No 706, Ian 'Legs' Eliason played a record 222 matches for Taranaki between 1964-81, along with 19 non-test matches for his country in 1972-73.
A stalwart of the Kaponga club, which spawned the famous Crowley clan, Eliason, a farmer, played in as many as 10 All Blacks trials, and may have been unlucky not to have won more All Blacks jerseys, though he was not tall for a second-rower. It was said he left the field injured just once in his long Taranaki career for whom he gave full commitment, not the least of which was the long commute to and from rep training in New Plymouth.
Eliason was a life member of the Taranaki union and served in various administrative posts, including patron and president.
Keith Davis (1930-2019)
Halfback Keith Davis was All Black No 546, appearing on 25 occasions, including 10 tests, from 1952-58.
He was the No 9 in the Sacred Heart College First XV of the Century, named in 2003, and won a 1A title with SHC in 1948 (shared with King's) when he was head boy.
Davis, who played 54 games for Auckland out of the Marist club, toured the Northern Hemisphere with the 1953-54 All Blacks alongside his cousin and fellow halfback Vince Bevan.
A strong involvement with the Maori All Blacks helped Davis to three Tom French Cup awards from 1952-54. In 1967 he helped coach and select the Maori team.
In 1954-55 Davis played five first-class matches for the Barbarians club.
Denis Harding (1935-2019)
Denis Harding led a full and interesting life.
While in later years, he was a keen President's grade cricketer with Auckland's Cornwall club, a useful golfer, senior member of the Carbine (racing) club, and a keen petanque and 500 card player, Harding was also a highly regarded ear, nose and throat surgeon.
In rugby, his high-water mark came in 1958 when, as a halfback out of the Otago University club, he played seven times for Otago, South Island Universities and won an All Blacks trial. Harding played in a strong Otago University team, which included All Blacks 'Tuppy' Diack and Mark Irwin, that shared the Otago club title that year.
Harding was a long-time Barbarian and something of a character around the traps, as befitting most halfbacks.
Ron Elvidge (1923-2019)
Ron Elvidge had been the oldest surviving All Black (No 454) until his death at the age of 96.
The Otago midfielder played 19 games, including 10 tests, from 1946-50, but is most famously recalled for his gutsy try, scored while badly injured and as captain, to help the All Blacks win the third test against the 1950 Lions at Athletic Park. He never played again.
Elvidge also captained Otago, playing 30 games for that union, during one of its finest eras, out of the University club.
He found further renown as one of New Zealand's foremost gynaecologists.
His grandson Andrew Elvidge played for Canterbury, South Canterbury, Wellington, Wairarapa-Bush and NZ Universities.
Alan Montgomery (1927-2018)
For many, many years, Alan Montgomery was the club's solicitor and only passed the baton to Bernie Allen in relatively recent times.
It was said that he turned out for Grammar in his playing days, possibly in the backline, before he joined the Auckland University club, discharging many years of service as that club's solicitor before Mike Cormack and Bob Burnes took up the role.
Montgomery was actively involved in the purchase of 'The House that Jack Built' in the early 1970s and he was a cheerful, constant presence at the Barbarians right up until, and after, the time the clubhouse moved high up into the north stand at Eden Park.
He was a good communicator, a wise practitioner and successful commercial lawyer who enjoyed a punt too. He started work on the rewording of the old club constitution in the early 2010s.
Kevyn Male (1943-2018)
Successful businessman, prolific author, teacher, antique collector, long-range goalkicker, versatile forward, character of rugby.
Such were the many faces of Kevyn (KG) Male, who died in December after a long illness.
Male, who could play flanker, lock or prop, appeared 18 times for Auckland from 1964-70, scoring one try. He debuted in the same game as his Otahuhu clubmate Peter Murdoch in '64. By that stage he had already turned out for the Centurions club and the NZ Colts. Male was known for his hard-nosed attitude on the field, but he was a softie off the pitch.
He played two first-class games for the Barbarians in 1972, by which stage he was at Grammar, winning a Gallaher Shield with that club to go with those he enjoyed at Otahuhu.
Male started up The Three Bears in Newmarket and, in 1988, Route 66. He is a past president of the Newmarket Business Association.
In the late '90s, he authored two entertaining books, out of 25 he penned on a raft of topics, on grassroots rugby.
His son Todd, one of three children, is a Barbarian. 
Geoff Moon (1966-2019)
Geoff Moon, who died suddenly in January while doing some coaching in Italy, was one of just four men to have won both Gallaher Shield club titles and Auckland 1A First XV titles.
Two others – Sir Graham Henry and Grant Hansen – are Barbarians.
Moon was known as 'The Godfather of south Auckland rugby' having extensive involvement as a player and coach at schools and club level. He was especially revered at Aorere College. In 2000 he guided Otahuhu to the Gallaher Shield title, the last south Auckland club to do so.
From 2013-18 he coached the Mt Albert Grammar First XV, claiming the 2016 1A and national Top 4 titles. In 2016-17 he was also the Auckland assistant coach.
'Moonie' had a priceless ability to relate to everyone, including referees (!) and his funeral in January at MAGS brought rugby people from far and wide. Barbarians Eroni Clarke and Keven Mealamu were among those who paid tributes.
'Tiumalumanaia' Dylan Mika (1972-2018)
Like his old Manu Samoa captain Peter Fatialofa, Dylan Mika was taken too soon from us all.
One of the few to have played for both the All Blacks (1999) and Manu Samoa (1994-95) as a rangy, lineout-winning loose forward, Mika appeared in 102 first-class games, representing Auckland, Blues, Chiefs and NZ Barbarians, rounding out his career in Italy and Japan.
Made a Barbarian in recent years, such was his commitment to the club that he swiftly rose to be vice-president and was still very active on the committee, often behind the scenes, at his sudden death. Mika even had his own unofficial seat at the bar, and was always generous with his time and seeking to help those who looked lost or new to the club.
His funeral celebration at Eden Park on March 27 drew many emotional tributes, including those from Barbarians Sir Bryan Williams, John Hart, Tana Umaga and Alama Ieremia.
A successful businessmen with an endless book of contacts around the Pacific, Mika is survived by wife Tracy and young daughter Marley.
Fergie McCormick (1939-2018)
Fergie McCormick was a good All Black and one of the greats of Canterbury rugby.
His record 222 games for the union, from a durable 1958-75 career will, you can be sure under the current landscape, stand for all time.
As a goalkicking fullback out of his beloved Linwood club, McCormick played 16 tests out of 44 games for the All Blacks from 1965 to 1971. His 24 points against Wales in 1969 stood as the world record for an individual return in a test until 1982. Just 15 men have played more than his 310 first-class games and just nine have topped his haul of 2065.
In recent years, he helped coach the Canterbury and Linwood women and maintained close ties with rugby.
These quotes from McCormick's 1976 book Fergie, with Alex Veysey, will surely strike a chord with many Barbarians.
'You forget the All Blacks and you play every game for your club with everything you've got. The club is everything and any player who saves himself for something bigger is no player at all…'
'Any fullback, or any rugby player, who can't kick with both feet isn't even half a player.'
Barry 'Bear' Thomas (1937-2018)
A fine rugby man and Barbarian has departed this mortal coil.
Known as 'Bear' by all rugby people, Barry Thomas was a fine player in his own right. Operating as a prop or lock, he racked up 86 games for Auckland from 1958-67, for just one try, plus nine matches for Wellington in 1964. The pinnacle of his career came via his four All Blacks tests in 1962 and '64 against the Wallabies.
But his place in Manukau Rugby Club history is assured. He captained the 1968 Rovers to their first Gallaher Shield title under the coaching of Albie Pryor, and was still involved when they were runners-up to Grammar in 1970 and when they won their second championship in 1973. He served his club selflessly, being accorded life membership and was also prominent in Barbarians activities. As a life member of Bridge Park Bowling Club in Mangere Bridge, he was a regular at Barbarians and Pat Walsh Memorial bowls days.
Thomas was also a tennis player of note, playing Caro Bowl for Royal Oak and also representing the Manukau Rovers and Te Papapa tennis clubs.
Thomas' family name at Manukau was continued through his sons, Greg, Michael and Stephen. They all played for Rovers. Greg was made a Barbarian in 2016. Another son, Kevin, played for the NZ Barbarians in 1985. Bear's grandson Sam has appeared for Auckland as a hooker.
Sir Colin 'Pinetree' Meads (1936-2017)
The mighty 'Pinetree' has fallen.
One of the greatest of All Blacks greats, Meads succumbed to cancer, but not before seeing his image immortalised in bronze in his home town of Te Kuiti. The lock played 139 games for King Country and two for the Barbarians in 1973, but is most recalled for his 133 All Blacks games, including 55 tests, from 1957-71. He was named New Zealand rugby player of the (20th) century and was awarded the Steinlager Salver in 1999 for his services to rugby, which included coaching King Country, managing the All Blacks and serving on the NZRFU council and as a national selector.
His brother Stan, with whom he locked several All Blacks scrums, is also a Barbarian member.
Norm Brown (1935-2017)
Norm Brown, a five-eighths and fullback, appeared in 29 games for Auckland from 1955-60, scoring 17 points, including four tries.
In his final season with the union, 1960, he appeared at the start of one of the finest Auckland Ranfurly Shield eras. A multi-skilled and versatile operator, Brown, a gentle man by nature, also won three Gallaher Shields with his beloved University club from 1955-57, often alongside the best man at his wedding, the late Sir John Graham.
He also appeared for North Island Universities, the Barbarians club, of which he was a proud member, and New Zealand Universities. He played for the latter against the touring British and Irish Lions in 1959, while one of his most significant career moments came in 1956 when he scored a late try for Auckland against the Springboks at Eden Park in a 6-3 defeat.
His brother-in-law Bob Burnes and nephew Campbell Burnes are Barbarians, while another nephew, Chris Brown, played cricket for Auckland and is now an international umpire.
Lionel Wilson (1933-2017)
Lionel Wilson was a former Springboks fullback who later settled in New Zealand and was accorded the rare honour for a Bok of Barbarian membership.
He played 27 tests for South Africa from 1960-65, including six tests against the All Blacks. His efforts in the 1965 series saw him named by the Rugby Almanack as one of the players of the year. In 1978 he settled in Palmerston North and later Napier, where he died.
Alan Clark (1931-2017)
Alan Clark was a real rugby and cricket allrounder.
As a No 8, he scored 13 tries in 59 games for Wellington from 1952-57, one for Otago in 1958 and was a 1957 All Blacks trialist. Clark also played cricket for Otago, Wellington and Auckland and was later an Auckland cricket selector. He played Presidents grade and Golden Oldies cricket for many years with Wilson Whineray, John Sibun and Denis Harding.
In latter times, he was a season ticket holder in the Barbarians boxes.
Peter Burke (1927-2017)
All Blacks lock or No 8, All Blacks coach, President of the NZRFU, life member of New Zealand Rugby.
That is a snapshot of a lifetime of rugby for this Taranaki centurion, who made 117 appearances for his union, winning the Ranfurly Shield, alongside 12 games, including three tests for the All Blacks from 1951-57. Burke coached Taranaki and later the 1981-82 All Blacks before serving as NZRFU President in 1994 and receiving the New Zealand Order of Merit in 1997.
Sir John 'DJ' Graham (1935-2017)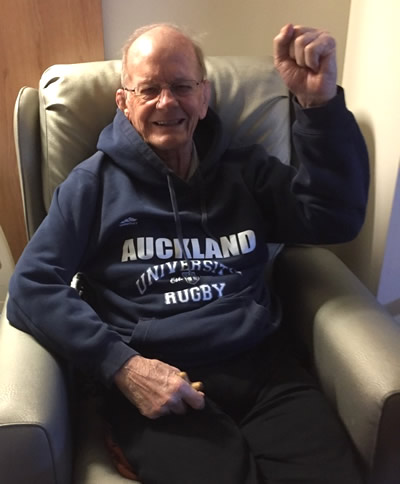 They came from far and wide in their thousands for the funeral early this month of Sir John 'DJ' Graham, a great man of rugby and indeed an impressive allround man.
His list of achievements is too great to list in full here, but he did play 22 tests (out of 53 matches in all) for the All Blacks from 1958-64 as a light, but smart loose forward. That he scored no less than 42 tries in 180 first-class games is testament to his ability to be in the right place at the right time.
He played his early rep rugby for Auckland and NZ Universities, and latterly Canterbury, and an early example of his leadership was evident when, as the young 21-year-old skipper of University, he refused to be cowed into playing unscheduled extra time when the Gallaher Shield decider with Otahuhu was tied at 80 minutes.
A forthright, very black and white character, Graham brought discipline and high standards to his time as Auckland Grammar School headmaster from 1973-93, as he did to his work as Auckland assistant coach in 1974-76 and 1992-94. He filled many roles within education, rugby and sport in general, and was knighted in 2011. He served terms as President of both Auckland and New Zealand Rugby.
In latter years, he enjoyed getting back to grassroots rugby with his old Auckland University club and his old school ethos was exemplified with a superb after-match speech, at his accession as patron of that club, extolling the virtues of club rugby.
Graham's brothers, Sir Jim and Barbarian member Bob, also both played rep rugby, for Waikato and Auckland respectively.
Ness Toki (1949-2016)
Ness Toki was a small but tigerish openside flanker whose career high point was probably his display for the New Zealand Maori against the 1971 Lions at Eden Park.
On that occasion, the first-class rookie played above himself, getting in Barry John's face and harassing the great No 10. The Maori lost, but Toki was noticed. He tackled low and was always a clean player, but did it with a smile, hence his nickname 'The Smiling Assassin.'
He went on to play 23 first-class games until 1978, including nine games for Auckland out of the College Rifles and Suburbs clubs, the latter with whom he featured prominently in their first Gallaher Shield triumph in 1977.
Toki formed part of a loose trio that included the outstanding Glenn Rich.
His playing days effectively ended in Italy in the early 1980s at the Casale club, second home for several Suburbs players, when he was the victim of foul play.
Toki was soon giving back to the game via coaching. He took the MAGS First XV, with some success, in the late 1980s, and was the Auckland union's coaching co-ordinator to various rep teams, including this scribe's 1991 Auckland Schools team.
Toki's brother Leon also appeared for New Zealand Maori and Auckland.
Nessie Toki died in December near family in Kaikohe, having shifted from west Auckland due to a degenerative illness.
Don Cameron (1933-2016)
They came from far and wide for the funeral, in September, of this proud Barbarian and great sports writer.
DJ Cameron's name will live on in the clubrooms in Sleepy's Corner, which houses many of his vast collection of books. Equally adept at writing on cricket or rugby, Cameron was prolific, knowledgeable, descriptive and occasionally florid with his prose. He was the Herald's senior rugby and cricket writer for many years and made many friends both within and outside the press box.
In latter years, though his output was reduced, he still found time to enjoy a beer in the clubhouse and was a regular at the annual fun day.
Read Campbell Burnes' tribute to DJ here: http://www.barbarianrugby.co.nz/archives.html
Bruce Scown (1936-2016)
Bruce Scown was a wing for Counties in the early days of the union.
Out of King's College and the Papakura club, the farmer scored 18 tries in 47 games for Counties from 1955-60 and had two All Blacks trials in 1957.
The following is reproduced from the order of service:
'I've been sidelined big time – hardly missed a game my whole career
Now this. The sinbin would have done – a short suspension at most.
But now I'm on the bench for good. Deselected, as they say.
Can't the coach see a star is out? Won't the fans be sad?
They'll cope. The games goes on without me.
I'll watch it from the grandest grandstand of them all.'
Laurie Woodgate (1928-2016)
At the time of his death in July, Laurie Woodgate was a life member of the Auckland Rugby Union and the Auckland Rugby Referees' Association and one of the oldest Barbarians.
His playing days saw him prop the Northcote scrum with 'Snow' White in the 1950s before his work as a police inspector (which saw him awarded the QPM, Queen's Police Medal) took him to Rotorua, where he took up the whistle, rising to be one of the top referees in Bay of Plenty. Upon his return to Auckland, he immersed himself with the referees' association and brought an ethical, principled approach, to his work as chairman of the ARU judicial committee. In 1992 he was the ARU administrator of the year, and was ARRA president from 1987-88.
Bob Sorenson (1923-2016)
Bob Sorenson was our popular club patron, succeeding Jack Bourke in that role.
At the time of his death in May, he was one of the oldest Barbarians and a life member of the club. He was, in addition, the oldest surviving club President, having served his term in 1969-70, while he was club captain from 1954-59.
A regular in the clubrooms up until 2014, Sorenson was a gentleman, a real rugby character, and a selfless servant of the game. Out of the Marist club, he played 40 games as a fullback for Auckland from 1942-49, scoring 176 points, including seven tries, and also played two first-class games for the Barbarians in the early 1950s.
In 1964-66, he was selector/coach of Auckland, succeeding the late, great Sir Fred Allen, and took the union to Ranfurly Shield victory over Taranaki and a win over the 1965 Springboks.
'Snow' White (1929-2016)
Another legend of our game, Hallard Leo White, known to most as 'Snow', played a record 196 games for Auckland from 1949-63 as a prop, a mark that will likely never be bettered.
Born, raised and educated in Kawakawa, he was also an All Black in 16 games (including four tests) from 1953-55 and racked up 235 first-class matches.
A legendary front-row exponent, he was a tough, uncompromising, fit and skilful player. He went on to be assistant coach of Auckland, club coach at Northcote, life member of both the Northcote club (from where he was its first All Black) and Auckland union, President of the Auckland RFU and also President of the NZRU.
The word is he was not averse to having the odd crack at goal from a mark too.
"'Snow' White was a man with a huge heart who loved rugby and always gave his time freely whenever asked to coach or help out," recalls Barbarians President Ron Williams, himself a former All Blacks prop out of Northcote.
Bret Penman (1927-2016)
Breton Penman died in February in Auckland, but the club only discovered the news several weeks later when his daughter Yee Man Penman-Green visited the clubrooms.
A legend of the Hong Kong Football Club, Penman won a Gallaher Shield with University in 1949 – a side that was captained by Bryce Rope – before his travels as an architect, which took him to Australia and Hong Kong. He played more than 100 premier matches for the Hong Kong club, was made chairman and life member, and gave years of service until his return to New Zealand in 2009.
Penman was a long-time Barbarian member, having been inaugurated in the 1950s.
Bert Mackie (1933-2015)
Known to many as 'Uncle Bert,' Bert Mackie, who died in November but whose death was only recently brought to the attention of the club, was a popular and hard-working figure in Maori rugby.
Of Ngati Wai and Ngati Porou descent, Mackie started out his club rugby as wing, but then moved to prop as he came under the wing, as it were, of Johnny Simpson at the Takapuna club. A policeman in his early days, Mackie represented the Navy, Police, Combined Services, and appeared for the Barbarians. That was after serving in the Korean War. A dapper dresser, Mackie was an intense but loveable guy, qualities which always shone through in his later life as a publican and a JP.
After his playing days, he took up coaching, guiding teams at Takapuna, Ponsonby, Christchurch BHS and Lincoln University as he moved around.
A long-time Barbarian, Mackie served on the Maori Rugby Board and was manager of the 1988 New Zealand Maori on one of their last long tours, to Europe and Argentina, where a calming, diplomatic presence came in handy.
Mackie was a great supporter of Maori organisations, and spent time on the Board of Maori Affairs.
Mark Vuksich (1938-2015)
Mark Vuksich was a noted pharmacist and rugby man who died in October.
An old boy of St Peter's College, where he skippered the First XV, Vuksich was the strapper cum masseur cum doctor for the great Auckland team of 1982-86 under the coaching of John Hart.
Hart, who was a pallbearer at his funeral, recalls a top bloke and a great servant of the Waitemata club and Auckland rugby.
"Guys acknowledge that he played a pretty important role in the evolution of the game in Auckland," says Hart.
Vuksich was a hooker at the Grammar club before joining Waitemata where he coached in the junior grades. His late brother Ray, also a Barbarian, was Waitemata premier team manager in the 1970s.
Vuksich's funeral drew many rugby people from all over Auckland, and Sean Fitzpatrick and David Kirk sent messages from abroad for a popular figure in their team.
His son Michael played second five for Marist and Auckland Colts.
Jonah Lomu (1975-2015)
Jonah Lomu was one of the true greats of the game.
It is not an exaggeration to say that his exploits on the left wing at the 1995 RWC in South Africa, when he was just 20, changed the game just as it was going professional. Some of his tries, that season, in particular, defied belief. He battled a kidney disorder through much of his career – in which he played for Counties Manukau, Wellington, North Harbour, the Blues, Hurricanes and Chiefs, plus the NZ Sevens – but he still scored 126 tries in 203 first-class outings and 37 tries in 63 All Blacks tests. Lomu's feats at Wesley College, in the athletics sphere, as much as in rugby, are still talked about.
Some Barbarians still talk about an amusing event outside 'The House that Jack Built' some years ago in which Lomu helped Sir Wilson Whineray with a flat tyre.
He died suddenly in Auckland in November, leaving behind his wife and two sons and a towering rugby legacy. Tributes flowed freely from all over the rugby world.
Murray Tanner (1925-2015)
Rugby rep, premier club cricketer, talented musician, lawyer.
Such were the many strands to the full life of Murray Tanner.
A fullback or midfielder out of Auckland Grammar School, Tanner played 19 first-class games for Auckland B, North Island Universities and NZ Universities from 1945-52 and was perhaps unlucky not to win a cap for Auckland. He played his premier club rugby for University and his premier club cricket for Cornwall.
There is a story that he left his honeymoon to answer an SOS to go and play for the NZU.
He won national renown as a jazz musician, where his work on the trumpet was highly regarded.
Tanner was the older brother of 1950s All Black John Tanner.
Dave Dalgleish (1927-2015)
Dave Dalgleish was one of the great characters of rugby and embodied the T in Grammar TEC, newly crowned Auckland premier club champions.
He was a life member of the Teachers-Eastern club and Auckland Rugby Union, and was always a forthright and knowledgeable voice on rugby issues, among others. A teacher by trade, who played for the Teachers club, he also gave tireless service to primary schools rugby, and his hard and selfless work for the game led to a New Zealand Order of Merit in 1997.
He leaves behind wife Verleen, three children, five grandchildren and a veritable treasure trove of memorabilia in the form of a rugby programmes and books.
It is fitting that his funeral, in June, was held at Eden Park. It also needed to be held at a large venue to accommodate a large crowd. Barbarians committee member Terry Horne was the celebrant.
Charlie Bancroft (1923-2015)
They say that not even Albie Pryor could get a free beer when Charlie Bancroft was running a tight ship at the old Barbarians bar at the House that Jack Built.
Bancroft had worked as a publican and was a very efficient barman when he wasn't busy helping out with his beloved Takapuna club, for which he was a life member. Back in the day he had helped build the Milford marina and had a distinguished military career serving in the navy, among other postings, during the Second World War.
After the war, he was part of a Takapuna front-row that included the feared Johnny Simpson, and was a great mate of Fred Allen. Bancroft went on to captain the Takapuna seniors and gave sterling service to that club. He coached the third grade team which put a joint and moving death notice in the paper after his passing last month. His grandsons Nick and Jon Elrick both played for Takapuna. The latter, a North Harbour rep, is one of the most prolific and accurate goalkickers in all club rugby.
Alan Tingle (1945-2015)
For many years, Alan Tingle was one of the first to arrive at the Navy rugby grounds for the annual fun day.
He lived down the road, and in fact played for Navy in the 1960s, but he was passionate about the game and the Barbarians. As a hard-nosed midfielder, Tingle played for NZ Services in 1969 and seven games for Auckland out of the North Shore club, later also appearing for Northcote. In later years, Tingle became a life member of the North Shore club.
Tingle was known as a real character of rugby. This from the North Shore club's 'Rave' column: 'Ting wasn't great on taking orders and even quit as a field dresser after being told what to do on a frosty Saturday morning at the club putting the fags and goalpost pads out.'
Peter Wahlstrom (1933-2015)
Peter Wahlstrom made his early mark on rugby in the same New Plymouth Boys' High School First XV as fellow Barbarian Sir John Graham.
Wahlstrom, a prop, went on to play for Victoria University in Wellington, but his potential rep career for the capital was foiled when he turned up late to training, coach Bill Freeman showing him the door.
By the early 1970s he was in Auckland, coaching Marist out of division two into the top flight, and taking the Auckland Colts – for whom Andy Dalton was his captain – and Bs to successful winning records. Barbarian Bryan Craies beat him to the Auckland job in 1978. Wahlstrom then had stints coaching at Teachers-Eastern and College Rifles before taking a step back in latter times to watch his son Glenn, also a Barbarian, with the whistle, and grandson Dave Thomas, who has played for Auckland. Wahlstrom senior continued his work as an accountant up to just a few weeks before his death.
George Bourke (1923-2015)
George Bourke played 16 first-class games as a prop from 1945-52 for Auckland, Auckland B and the Barbarians and was the younger brother of our former patron Jack Bourke.
Like his brother, Bourke played for Ponsonby after leaving Auckland Grammar.
A builder by trade, he commanded great loyalty and respect for his work at Fletchers Construction. A love of the sea saw him join the navy during the Second World War, and he was a keen sailor.
His son Peter Bourke told a story in his eulogy of how George and Jack Bourke propped for Auckland against the All Blacks prior to the 1949 tour of South Africa. They gave Kevin Skinner and Johnny Simpson a real hurry-up, it was said, and the selectors looked concerned.
Bourke retired when he moved to Invercargill for work, but he started his coaching career with a senior championship win with Old Boys and later in Christchurch, coached the Christchurch club senior team to the title with his great mate and fellow Barbarian, the late Ron Dobson, another Ponsonby man. He returned home to coach Auckland age group sides who were also dominant. In later years, Bourke kept in touch with the game through the Barbarians club, and only threw out his rugby boots into his 80s.
Alf Dalton (1934-2015)
Alf Dalton was a fine, attacking centre who scored 16 tries for Auckland in 33 games from 1954-58.
After coming through the Parnell junior rugby ranks, he won Auckland 1A titles in 1950-51 with the Auckland Grammar First XV before joining the Grammar club. In 1953 he won a Gallaher Shield with the club and then cracked the Auckland side the following season. One of his finest games came against Fiji in 1954 where the part-Rarotongan Dalton ran with purpose and shut down the dangerous Fijians. He also appeared in two first-class games for the Barbarians in 1955, scoring two tries.
A loyal Grammar clubman and a decent bloke to boot, he served on the committee for many years and helped organise reunions before joining the Pakuranga club later in life, having moved to Howick.
Dalton was a hatmaker and worked for Fred Allen for a time. He is survived by two sons.
Sherman Corser (1924-2015)
The club was only recently informed of the death, in January, of Sherman Corser, in Orewa, north of Auckland.
Highly respected and well liked, Corser, seen as a "quintessential rugby administrator", was a life member of the East Coast Bays Rugby Club, and was in the thick of the formation of that North Harbour club.
East Coast Bays was born in 1946 by returned servicemen, of which Corser was one, having served in the RNZAF during the war as a radio technician in the islands. The club operated from Freyberg Park in Browns Bay from two old army huts. Corser and his wife Ivy dug and poured the foundations for the clubrooms that were built on the site.
He was the senior delegate to the ARU from 1969 until 1977, and then served as a vice-president of the ARU, but resigned when the North Harbour union was formed, as he believed the strategy was flawed. He was responsible for many years for producing the ARU match-day programmes and was press liaison officer during the 1987 Rugby World Cup.
Though Corser never played for the club, he formed and managed Bays' first championship side, the 1967 sixth grade. The players all had to call him 'Mr Corser'. He later served as president of the club.
Corser was also a very successful businessman, as the CEO of Korbond Industries, taking it from a small company in 1969 to a major player in haberdashery supplies.
Henry Pryor (1934-2014)
Henry Pryor died earlier in 2014 but his death was only recently brought to the attention of the club.
Younger brother of the late, great and colourful Albie Pryor, Henry Pryor was a well-known rugby identity in the eastern Bay of Plenty. A stalwart of the Matata club, whom he served in a variety of roles, including chairman, Pryor was also a member of the Wasps club.
Known as 'Babes', being the youngest of the Pryor boys, Pryor was mostly a flanker, but ended his career as a prop. Though he came close to making the Bay of Plenty side, he had to content himself with fierce on-field battles with his brothers, who often played for other clubs. Upon retirement, he coached at both senior and junior level at Matata and also at the Taneatua club. He was a butcher by trade, like Albie, but worked as farmer, as a lands and survey officer, and ran a Maori language radio station in Auckland for a time. Pryor gave long service to Maori rugby, both in Bay of Plenty and in New Zealand, serving on the board. In later years, he was the kaumatua for the Maori Sports Awards, for which Albie was a driver.
Peter Henderson (1926-2014)
Peter 'Sammy' Henderson was one of the fastest men to ever lace an All Black boot, being the national sprint champion for 1949.
An All Black out of Wanganui and the Kaierau club, Henderson played 19 games, including seven tests for the All Blacks in 1949-50, scoring eight tries.
His try in the 1950 fourth test against the Lions at Eden Park has gone down in rugby lore, largely due to the spectacular photo of an airborne Henderson diving for the tryline. But he also pulled off a crucial trysaving tackle on Bleddyn Williams in that clash.
In later years, Henderson lived in Tauranga, and even drove to Wanganui for that union's 125th jubilee in 2012.
The following is a true story relating to Henderson, supplied by one of our members:
'About 10-12 years ago, a middle-aged group of six former rugby players were having a golf weekend at a country club in the Waikato area. Late in the night, at the bar, the six started upon a sports quiz. The arguments and questions carried on incessantly, resulting in the other bar patrons, bored stiff, retiring to bed. The six continued the quiz with the golf club barman meeting their quenching demands.
'Someone then put up the question: 'Name the All Blacks backline in the fourth test v the Lions in 1950.' The arguments mounted over the various suggestions and assertions. Then the group turned to the barman and asked: 'Well, do you know who made up that backline?' As quick as a flash came the response: 'Vince Bevan, Laurie Haig, John Tanner, Roy Roper, Bill Meates on one wing, Bob Scott at fullback… and me!' At that point it was understood, and Peter Henderson, the barman, told them to bugger off to bed.'
Kevin Barry (1936-2014)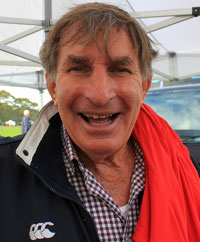 Kevin Barry was more than just a great man of rugby.
He was a great man and all of the many who attended his large funeral would concur.
The following is a transcript of the eulogy delivered at his funeral by one of his sons and fellow Barbarian, Mike Barry. It is worth reproducing in full, with thanks to Mike.
KE Barry and his rugby philosophy
To Kevin Barry, the game of rugby was all about life and through the playing of this great game, the development of one's character. It was never about ability, rep teams or higher honours. It was about how the solid values of a team sport could mould and develop a person: self-discipline, co-operation, loyalty, modesty, selflessness, friendship, dignity, leadership, respect, courtesy and courage. These were qualities Dad possessed in abundance and that he developed in everyone who was fortunate enough to be coached or taught by KE Barry.
Those values would materialise into a series of simple instructions:
Never swear on the field or at training.
Never gloat.
Forwards don't kick.
There's no room for show-offs, nor any room for bangles, ear-rings, necklaces, coloured boots or silly hair-dos.
Forwards don't kick.
The referee is to be addressed as Sir, and don't you ever talk back.
You may smile, pat your mate on the back after a try, but never a fist-pump or a melodramatic display of excitement.
Never sulk.
If you ever play away from home, always be polite and take flowers for the ladies in the kitchen.
Don't be late.
There's no place for high-fives. Shake a man's hand firmly and look him in the eye.
Forwards don't kick.
The team always come first and you are a very distant second.
And if I'm talking, don't fidget, listen.
Barry was the son of an All Black – Ned – and the father of an All Black – Liam. His provincial days are best remembered for the fact he played for three provinces – Auckland, Counties and Thames Valley. For the latter, he was part of the greatest day in that small union's history, when in 1962 it beat Australia in Te Aroha. A loose forward/lock, Barry played 23 matches for the All Blacks from 1962-64, firstly out of the Paeroa West club, but with no tests.
A proud and active Barbarian who taught at Rosmini College (though his schooling was at Sacred Heart), Barry was president of the club from 1986-87, and he was the manager of the famous 1987 touring side to the UK, who wowed the crowds with their open, Barbarian rugby.
Allen Rogers (1921-2014)
Allen Rogers was the oldest Barbarian at the time of his death.
He was the club president (1974-75) when the club moved into The House that Jack Built, and also served as secretary, being a trained accountant. Rogers' playing days were in Wellington, where he played for the province out of the Hutt club, and for Auckland B out of the Grammar club as a side-row forward. He played a first-class game for the Barbarians in 1954. Highly respected and liked by all Barbarians who knew him, he is no relation of fellow Barbarian Frank Rogers.
Barry Bracewell (1929-2014)
Barry Bracewell was one of the great coaches in Counties rugby history.
It was his blueprint for the game as coach of Counties in two separate stints ending in 1975 that paved the way for the union to clinch the 1979 NPC, its first and last first division title. He was also a first-rate selector who had the foresight to switch Bruce Robertson and Peter Goldsmith to their rightful positions. Bracewell started out as a prop who played 26 games for Auckland out of the Marist club from 1950-54. A family man (having six children) with very strong values, Bracewell owned a construction business which he then sold to one of his sons.
Kevin Skinner (1927-2014)
Kevin Skinner was regarded by many as one of the finest All Blacks props over 63 games and 20 tests from 1949-56.
He played his rugby for Otago out of the Pirates club and for Counties out of the Waiuku club, and was the New Zealand heavyweight boxing champion in 1947, a fact which contributed strongly to his status as "a hard man." Skinner was famously recalled to the 1956 All Blacks who needed a more physical presence in the front-row against the Springboks.
Peter Devlin (1933-2014)
The extent of Peter Devlin's rugby-playing days was for his Christian Brothers' High School in Dunedin.
But he made his mark on the game through his rugby journalism and writing, both for the Otago Daily Times and the now defunct Auckland Star, and was made a Barbarian in his 60s. In his latter days, he could often be found at the regular Auckland University Rugby Club Thursday evening 'choir practice' along with fellow Barbarians Bob Burnes, Don Cameron and Bruce Gemmell.
Eric Anderson (1931-2014)
Eric Anderson played 10 games as a prop for the 1960 All Blacks to Australia and South Africa, but was mainly a lock for Bay of Plenty in 26 games from 1956-61.
One of the founders of the Wasps club in Bay of Plenty, Anderson was a BOP selector in the 1970s and coached the union to the inaugural NPC title in 1976. A meat buyer and farmer, Anderson was also president of the BOP union in 1993-94.
Frank Oliver (1948-2014)
Frank Oliver was a 43-match, 17-test All Blacks lock between 1976 and '81 and played for three provinces – Southland, Otago and Manawatu – in a 15-year first-class career.
Oliver captained the All Blacks in three tests against Australia in 1978 and was a key figure in the controversial 13-12 victory over Wales on the Grand Slam tour later that year. A no-nonsense, hard-nosed forward, he was part of the 1980-NPC winning Manawatu team.
From 1994-2001, he was a prominent coach in New Zealand rugby, taking the NZ Under 19s (1994), Manawatu and the Central Vikings. At Super Rugby level, he was at the helm of the Hurricanes from 1996-99 and the Blues in 2001.
Oliver died in Palmerston North in March. His son Anton, another former All Blacks captain, is also a Barbarian.
John Pring (1927-2014)
John Pring was a top-class referee who took the whistle in eight All Blacks tests from 1966-72.
But his first-class career began back in 1955 with an Auckland v North Auckland appointment and finished at the age of 52 in 1980 after 77 games. That figure of 77 has been passed by just 17 Kiwi whistlers. He was referee in all four tests of the 1971 All Blacks-Lions series, a time he saw as his career highlight, saying the Lions were one of the most professional sides he had seen, under the captaincy of John Dawes and manager Doug Smith. Known as a quiet, intelligent man, Pring was widely liked and respected.
A bank officer and accountant by trade, Pring was awarded an MBE in 1979 for services to sport and was the president of the New Zealand Rugby Referees' Association in 1988.
Murray Reid (1938-2014)
The Barbarians lost one of their great men when Murray Reid died in January, leaving behind a playing and administrative record stretching back to the late '50s.
A quick look at his playing career might indicate otherwise… 24 matches for Auckland from 1960-62 before injury took him from the playing field.
The tall and talented young fellow who left Whakatane to try his luck in Auckland in 1958 brought with him physical talent, eagerly measured by Freddy Allen and a way-out sense of contagious humour from his friendship with Terry Sheehan, the legendary spin-doctor from Devonport.
Allen was searching for a lock to replace Kel Tremain, due to tour South Africa in 1960. One favoured candidate was the Takapuna giant Don Bacon, perhaps more powerful than young Reid. But Bacon contracted the worst illness a lock could suffer – a big boil on the butt – and Allen had to call Reid into a squad with a three-match preparation for the Ranfurly Shield defences ahead. The second of these was away against Wanganui and very likely.
Allen wore a worried frown as his pack struggled against a modest Wanganui scrum and lineout. Then, 20 minutes or so after halftime, Reid grabbed the ball and with power and surprising speed he broke tackle after tackle and finished a 30-40 yard burst with a try between the posts. The old sweats reckoned Auckland must have a hard-core pack, and Reid had won his spurs – Lew Fell, Reid, Barry Thomas, Clive Currie, 'Snow' White, Geoff Perry, with Bob Graham and Waka Nathan as the rovers.
Reid did well with 10 matches in his first year, eight in his second, but only six in his third as a run of injuries – gaining him the nickname of 'Chalky' – finished his first-class career. Reid was such a regular caller at the Middlemore Hospital that they asked him to stay away; he had already filled one large cupboard with his injury reports.
When Terry Sheehan produced a menu for a special Barbarians dinner recalling the Ranfurly Shield win in Southland in 1959, he praised "Robert the Blue (Bob Graham) who would leave the wenching, singing, dancing and drinking at the campfire to go and visit brave little 'Chalky Reid' who always broke something in battle."
Fortunately, Reid did not turn up his Barbarian toes after so many injuries and setbacks, and instead worked his way up the Baabaas organisation from member to committee man, to chairman, to president and on to life member. – DJ Cameron
Barry Beazley (1927-2014)
Northland rugby has lost one its stalwarts and life members with the passing of 1948-58 wing Barry Beazley.
A long-time Barbarian, Beazley played his rugby out of the Old Boys club in Whangarei and emerged during a successful period for North Auckland, as it was then known. He was part of the side that won the Ranfurly Shield for the first time, with a 20-9 victory over South Canterbury in 1950, scoring a try, as did centre Johnny Smith. A big, fast wing with a long stride not dissimilar, it was said, to the late Auckland wing and Barbarian Lyn Russell, Beazley scored three more Shield tries and 19 in all from his 59 games for the union. He also appeared in the 9-8 defeat of Australia in 1958. Furthermore, he played 12 games on two tours for the New Zealand Maori in 1949 and '52, and his fellow wing in many games for both New Zealand Maori and North Auckland, Percy Erceg, believes with an ounce of luck he could have cracked the All Blacks, though he did appear for North Island and in All Blacks trials. He also scored three first-class tries for the Barbarians from 1952-54.
A quiet, family man, Beazley managed the North Auckland team from 1964-82, often under his old coach Ted Griffin.
Peter Fatialofa (1959-2013)
The bare record of Peter Fatialofa's career does little justice to the impact this remarkable piano-moving prop had on Samoan, Auckland and New Zealand rugby over a period of 30 years.
There were 70 games for Auckland from 1984-92 out of his beloved Ponsonby club, 18 games for Counties from 1994-96 out of Manurewa, and a test for the World XV in 1992 against the All Blacks. He was not far off cracking the 1988 All Blacks. But he is best remembered in 34 tests for Manu Samoa from 1988-96, in which he was at the heart of Samoa's rebirth as a rugby power, notably at RWC 1991 as skipper. His playing and ambassadorial skills were vital to the cause and contributed to his MNZM in 1996 for services to rugby.
In the coaching ranks, Fatialofa guided the East Tamaki club, King Country in the NPC and also the Manusina women's team. The eldest of his eight children Jeremiah also played for Counties Manukau as a prop.
Read Campbell Burnes' tribute to Fatialofa at www.barbarianrugby.co.nz/peterfatialofa
Ian Irvine (1929-2013)
Ian Irvine holds a special place in North Auckland rugby history.
He was the hooker when the province wrested the Ranfurly Shield off South Canterbury in 1950. Irvine played 31 times for the union from 1949-53 out of the Old Boys club and his one All Blacks test came in 1952 against Australia. He was following in the footsteps of his father Bill Irvine, a 1920s All Black and one of the 1924-25 Invincibles. His brother Bob was a noted rugby broadcaster. He stayed heavily involved in rugby after his retirement and helped in the formation of the Northland Vikings. In 2000, Irvine was awarded an MNZM for services to the disabled.
Peter McKay (1923-2013)
The death of Peter McKay on June 5, 2013, aged 89, was not recorded in our August newsletter.
McKay was a fine attacking centre good enough to play 20 first-class games from 1945-49, including 12 for Auckland, two All Blacks trials and one for the Barbarians. A good friend of the late Murray Menzies, McKay, whose given names were Robert Pallister, was a key cog in the 1948 Gallaher Shield-winning Ponsonby team. A compositor in the printing industry, even the amputation of a leg later in life due to his diabetes did not stop the McKay smile and quick repartee, not to mention his undying support for the Ponies club.
Jack 'Snow' Nuttall (1920-2009)
The death of Jack 'Snow' Nuttall on May 3, 2009, aged 88, has only just been brought to the attention of the club.
A real character who enjoyed a gin and tonic, Nuttall was a Ponsonby front-rower, supporter and team manager before and after the Second World War. He fondly recalled a Ponsonby club reunion held in Cairo during the war. He enjoyed surfing at Piha and was a friend of the late Tom Pearce. Nuttall was made a Barbarian in 1973.
Pat Sheahan (1927-2013)
Marist Rugby Club and the Barbarians formed the cornerstones of 'Red' Pat Sheahan's rugby life.
Sheahan, schooled at St Peter's College, played for Marist as a prop, winning a Gallaher Shield in 1950, and made his sole appearance for Auckland as captain against Waikato in 1954. He was integral in the Marist 1960s shift to what became known as Liston Park, and he also helped donate the Dave Grace Memorial Trophy, played for between the Marist and University clubs. Sheahan served as president of the Marist club and was subsequently awarded life membership. In 1975 he was invited to join the Barbarians club, for whom he always had the highest regard. It was fitting that a large wake was held for him in the Barbarians clubrooms.
Away from rugby, he was an outstanding rower, being part of an Auckland Rowing Club eight that won a national title in 1946. He was also a generous host of the old Globe Hotel.
Laly Haddon (1939-2013)
Laly Haddon had the misfortune to be showing his wares as a speedy, tough No 8 at the same time as Brian Lochore was in his pomp for the All Blacks.
Haddon played 77 games for North Auckland from 1963-73 and made his mark in 23 matches for New Zealand Maori from 1964-73. He had just one All Blacks trial, in 1966. His 8-9 combination at the scrumbase with Sid Going was a key cog in the rugged North Auckland sides of that era.
Haddon started his career as a wing, and moved into the pack with no loss of speed. A farmer, he led a very full life after rugby, serving as a Rodney county councillor, and kaumatua for the Leigh and Pakiri areas. It was said he was the "self-appointed mayor of Pakiri." His conservation work earned him a QSM. Haddon died in July after a long battle with cancer.
Ross Nicholson (1922-2013)
Rugby players of today, and indeed back in the day, owe a debt of gratitude to the sterling, ground-breaking work done by Ross Nicholson, regarded as one of the founders of modern orthopaedic medicine in this country.
Nicholson played for the Grammar club after he left Auckland Grammar School, but he was to make his greatest mark as the honorary medical officer for the New Zealand and Auckland unions. If any prominent player had a shoulder, knee or joint problem from the 1950s to the '80s, there was a high chance Nicholson would have had a hand in the surgery or rehab. Dedicated to his craft, he was often the doctor on duty at Eden Park rep and test matches, and mentored top sports physicians such as fellow Barbarian Barry Tietjens. Racing was Nicholson's other great passion, and he regularly gave medical advice at the Auckland Racing Club in Ellerslie.
Bryce Rope (1923-2013)
Bryce Rope coached the All Blacks in 1983-84 but had already been a long-time selector/coach for the New Zealand Universities, rising up the ranks to be a North Island and All Blacks selector and national sevens coach. In his playing days as a loose forward in the 1940s and '50, Rope appeared for Auckland (13 games) and the NZU. That was after he had served in the Air Force during the Second World War.
A life member of the Auckland University RFC, Rope was president of the club from 1965-67 and also coached the seniors. As All Blacks coach, he promoted the likes of John Kirwan, Jock Hobbs and Warwick Taylor.
His son Derek, also a Barbarian, is the general manager of the College Rifles Rugby and Sports Club. A poignant memorial evening for Bryce and also the late Murray Menzies was held at the club in April.
Les Deas (1923-2013)
An Auckland Rugby Union and Teachers and Teachers-Eastern RFC life member, Les Deas put in a power of work for the game over many years.
As a swift centre, he played for Auckland and Otago in the 1940s before his rugby involvement morphed into coaching Teachers and Training College teams. Teaching was Deas' vocation and he became a schools inspector. He served as the ARU delegate for the Teachers and then Teachers-Eastern clubs for no less than 30 years (1956-86). In 1987 he was one of the go-to men in Auckland's organisation of the inaugural Rugby World Cup. Deas' brother Ken was a New Zealand cricket selector and served on the old Eden Park board of control. Les Deas loved a good debate and was a fine rugby character.
Bill Freeman (1922-2013)
Regarded by many as unlucky not to succeed Fred Allen as All Blacks coach in 1969, Bill Freeman was one of the more astute rugby thinkers and coaches in New Zealand.
His senior rugby career started at Wellington's Petone club and he played seven games for Wellington from 1942-44, but it was as coach of the province that Freeman truly made his mark from 1964-70, taking the prized scalps of the Springboks in 1965 and the touring Lions the following year. An NZRFU councillor from 1973-86, he became the national coaching director. A life member of the Wellington union, he was awarded a QSM in 1990 for services to the community. Some of his coaching phrases have passed into the rugby lexicon, such as 'A coach must innovate to motivate' and 'Kick to land, not to hand.'
Lyn Russell (1933-2013)
Until the advent of the prolific Terry Wright in the 1980s, the Auckland tryscoring record was held by Lyn Russell. His mark of 66 tries in close to 100 games from 1952-61 stood for over quarter of a century. A talented athlete and softballer, Russell made his first-class debut at just 17 and appeared several times for the Barbarians. A three-time All Blacks trialist, he was perhaps unlucky to miss out on the 1953-54 All Blacks tour of Britain and France. Far from idle after his playing days, Russell, who established a steel and wire manufacturing business, wrote and broadcast on rugby and was the North Harbour union's first director of coaching in 1985.
Murray Menzies (1926-2013)
Murray Menzies loved his rugby, racing, bowls and beer, and was always ready with a forthright argument.
After being head boy at Seddon Tech, Menzies, as a versatile footballer out of the Ponsonby club, played 27 official matches for Auckland from 1949-56. Mainly a loose forward, he could also play midfield or fullback, not to mention kick goals. As a player, he won two Gallaher Shields with Ponies, in 1948 and '54, before taking up coaching the club. After serving on the committee there, he was made a life member.
One of the drivers for 'The House that Jack Built' on Cricket Avenue, Menzies was a highly respected Barbarian who served as club president from 1992-93.
He and his wife Avis had a large family. His grandson Ray junior, a flanker, played over 100 premier games for East Coast Bays and was, at one, point, even player-coach.
Geoff Burton (1923-2013)
Geoff Burton was a likeable, astute rugby man who was a life member of the Auckland Rugby Referees' Association.
His refereeing days spanned 1950-95, so he was into his 70s when he hung up the whistle. Regarded as the first of the 'players' referees', Burton's rep career as a whistler was from 1959-68. He served as the president of the Auckland Rugby Referees' Association in 1967-68 and was, in 1973, president of the national referees association. Burton kept himself fit by jogging in the Auckland Domain every lunch hour.
His brother Jack played two games for Auckland (in 1948) and also represented Auckland and Ceylon (now Sri Lanka) at cricket. Geoff was also a stalwart of the Auckland University Cricket Club and one of the drivers in getting the great offspinner Jim Laker to come to Varsity in 1951.
Bob Scott (1921-2012)
The bare stats of Bob Scott's All Blacks career do not convey his greatness as one of the top three or four best fullbacks in New Zealand rugby history.
His 17 tests stretched from 1946-54 and came on the back of his brilliant play for the famous 1945-46 Kiwis Army side. A superb allround player who could kick with either foot, slot goals and break the line, Scott was an All Black out of the Ponsonby club, though he finished his career with Wellington's Petone.
At the time of his death, he had been the oldest living All Black. And even up until last year, he thought nothing of driving from his Whangamata home to Auckland and back again to partake in some social occasion or appear on TV. He brought the house down at the clubrooms in February 2011 when the Barbarians toasted his 90th birthday. After some gentle prodding, he removed his right shoe and sock to show all the famous foot that could land goals, barefooted, from halfway.
In the introduction to his 1956 biography with Terry McLean, Scott wrote: "I should like to say how much I have admired the work of such organisations as the Barbarians club… Their adventurous approach to the playing of the game provides a stimulus that it always needs."
"Rugby is a game for gentlemen in all classes but for no bad sportsman in any class."
Rt Reverend W J Casey, 1894