Papali'itele Peter Momoe Fatialofa
April 26, 1959 – November 6, 2013
By Campbell Burnes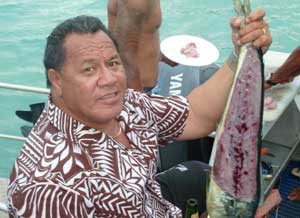 Fats' was many things to many people, and not just in rugby.
But he was certainly one of the most down-to-earth sports stars you are likely to meet. In this respect, you could compare Fats to league legend Ruben Wiki. They would treat you the same, whether they were talking to the Queen or to some wide-eyed young kid.
Some of the stories surrounding Fats always raise a smile. He was a genuinely funny guy with a positive outlook on life, a life he lived in the fast lane. How his scrum-damaged knees were up to playing squash so often is beyond me.
I first met him when my University team played Ponsonby during the 1995 premier club season, but I didn't get to know him until the Manu Samoa tour of the UK later that year.
Our first game together was a hit-out in Apia in the most cloying humidity I have experienced, not to mention 35 degree heat. I made the mistake of wearing thick, woollen winter socks. As a result, so much sweat dripped down into my boots that my two relatively easily penalty shots at goal were badly astray.
Quick as you please, Fats called out: "Campbell, I thought you could kick!"
I may have taken offence, but with Fats you just had to laugh.
He was the only man I knew who could look the same after 12 hours on the rumbos as he did at the start. Never try and go one-for-one with him for more than an hour.
Fats was also responsible for my passage onto the 2000 Manu Samoa tour to the UK. After we had played a game for the Barbarians against the Auckland Grammar School First XV, I must have made a decent impression on him because he called me at work on the Monday.
The exchange went something like this:
"Campbell, Fats here. Do you want to come on the Manu Samoa tour?"
"Sure would, Fats. When's the trial?"
"There's no trial. You're in!"
Easiest team I ever made.
More than anyone, Peter Fats was front and centre of the resurgence of Manu Samoa in the global game, and became a great ambassador for his country and its rugby.
My favourite Fats quote, out of the hundreds that made good copy?
It came in a post-match TV interview when Manu Samoa had been humbled 73-3 by Australia in 1994: "Geez, we might have to row home now!"
We will miss one of rugby's true characters.