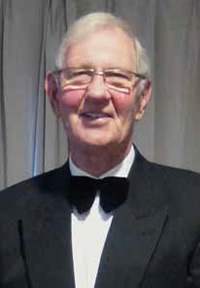 Bevan Holmes may be in retirement up in Northland's Parua Bay, but he is still enjoying life and rugby to the full.
The 1970-73 All Blacks loose forward, now 69, was made a Barbarian in 2015 after a long involvement in rugby. He played 90 games for North Auckland out of the Kamo club from 1966-78 and he appeared 31 times for the All Blacks on four tours, though without gaining a test cap, a record which still stands. Not that Holmes himself harbours any regrets about the record.
"Put it this way, I don't worry about it very much. I played with some legends. I was reserve a few times in tests on the 1972-73 tour. You just about needed a doctor's certificate to get on the field then! But I had a wonderful time. Rugby was my life in those early days. I travelled the world and was very lucky," says Holmes.
He wasn't so lucky on the 1970 tour of South Africa. After playing two games in one day in Western Australia to mark his All Blacks debut – with two tries, no less – he was struck down with pleurisy, often being forced to sleep standing up in the Republic. That severely curtailed his playing time, though he did gain the nickname 'Beaver.'
"I can always tell young boys that Colin Meads passed me the ball for my first try for the All Blacks!" Indeed, Holmes scored 11 tries for the All Blacks.
He won two Ranfurly Shields with North Auckland and still gets along to the ground which he knows and loves as Okara Park to support the Taniwha. He admits, though, it was odd scoring a try for the All Blacks against North Auckland in 1973, and legendary provincial coach Ted Griffin was far from amused!
Holmes first wore the Barbarians colours in 1969, but "stuffed" his cruciate in a Sunday match, one of two serious injuries he suffered. He also played for the Vikings and Centurions.
"The Barbarians are rugby gentlemen. I have friends in the club like Frank Colthurst and Don Hewitt, whom I played with years ago. I know (new member) Terry O'Meara well. I've been twice to the Barbarians clubrooms. It's a wonderful spot and it oozes rugby. I look forward to getting down when the rugby season starts again."
There is no shortage of people with whom to yarn about rugby. His neighbour calls him 'Mr Holmes' and is always keen to gauge reaction to the latest news or game.
When Holmes hung up his boots, he threw himself into his teaching and ran a marathon, breaking three hours, if you please. He helped out Sid Going with some technical advice with the North Auckland side. Now he keeps himself fit with cycling, loves his yachting and gardening and is right into his calligraphy, a passion of 40 years or more. Holmes does medieval scripts and works closely with NZ Calligraphers. He can do fancy birth certificates and the like. That and family fills his day quite nicely.