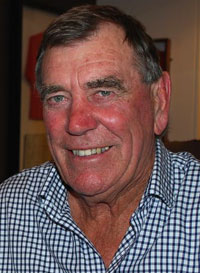 Bill Symonds is a great believer in the inherent goodness of rugby people, so consequently he feels right at home as one of four King Country members of the Barbarians club.
"The rugby fraternity was very good to me. Rugby people stick together pretty well," said the 70-year-old, down the blower from his Te Kuiti farm.
Along with the Meads brothers and Ivan Haines, Symonds hails from the real rugby heartland and hinterland that is King Country. His father William played for the province and Hawke's Bay back in the 1920s and Bill followed in his footsteps as a lock or loose forward in 62 games for the union between 1966 and '72 out of the famous Waitete club. An All Blacks trialist, Symonds has fond memories of his clashes with Auckland, including one memorable 16-6 victory at Eden Park in 1970. He also appeared for King Country against France in 1968 and a combined Wanganui-King Country unit against the 1971 Lions tourists.
Symonds wasn't always destined for a first-class career, though. He didn't make the MAGS First XV in Auckland, size and height coming later in life. He has served his time in various roles for Waitete after retiring following the club's 1975 tour of South Africa, and also helped out at the Pio Pio club.
In 1995-96 he was manager of the King Country Rams as they walked with the giants in the first division of the NPC. Famously that year they beat Auckland in Taumarunui (Coronation Shield) and Canterbury in Te Kuiti (NPC).
"They punched above their weight for a few years there," he says, with fond recall.
Symonds has been a member of the Barbarians for more than 40 years.
"I played a few games for them and then was invited to join around the time 'The House that Jack Built' was going up (1973). Being down here, I haven't visited the clubrooms a lot, but I've always paid my sub and followed and supported their activities. I'm very impressed with the new clubrooms, which I have visited once."
In 1985 he recalls he was in charge, at the behest of the late Peter Murdoch, of a group of supporters who toured Australia following the NZ Barbarians on their three-match, unbeaten tour. The likes of Sean Fitzpatrick and John Kirwan graced that fine team, only four of whom did not ultimately play for the All Blacks.
Symonds has sold farms in the King Country for the last quarter of a century, joking that although he still lives on a farm, he gets others to do all the hard yakka. He still keeps an eye on the local footy scene, but enjoys getting up to Hamilton, where he has a couple of season tickets, to watch the Chiefs play.