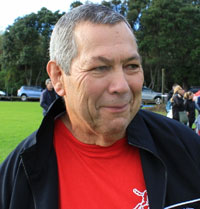 Meet the incoming president of the North Harbour Rugby Union.
You'll recognise the name. Brad Meurant will assume the role next month after a lifetime of rugby within the union and when it was still part of the Auckland province.
The 61-year-old, who has lived on the North Shore for nigh on 50 years, has taken a step back from his coaching and astute radio comments these days but still keeps a close eye on the rugby scene, works as a plumber for 25-30 hours a week, and is a doting grandfather.
When we catch up with Meurant, he is laid up with a calf tear, but one of the characters of the game still has an endless array of rugby stories from his time as a coach and rugby globetrotter.
His CV is extensive, starting as a prop with the Takapuna club, before racking up 144 premier games for rivals East Coast Bays, while gaining rep honours with Auckland B and C. Retired at 28, he dabbled in coaching and within a few years had achieved the probably unique feat of winning two premier North Harbour club titles at each of two different clubs – East Coast Bays (1985-86) and Northcote (1989-90), bookending a stint with North Harbour B. His tenure as head coach of North Harbour (1992-94) saw the union through arguably its greatest period, defeating France, Auckland (for the first time) and Transvaal in the 1994 Super 10. Meurant rates that 1994 side, with no less than 11 All Blacks, as the best in Harbour history, as the 15-4 record attests. Then followed two seasons with the Chiefs (1996-97), one more at North Harbour and stints coaching professionally in South Africa, Ireland and Japan. But helping coach the Georgia Under 19s in the late 1990s might just top the lot.
"Georgia was my watershed. I thought it was a state in the southern USA," he quips. His Georgian story is detailed in that very fine book Rugby Nomads, co-authored by Barbarian Bob Howitt, but it meant he was coaching with the rawest resources. The players had nothing and washed their jerseys in hand basins. But they won the second division of the FIRA Under tournament in France and were promoted.
"Dealing with a whole lot of kids whose only way of getting out of an ex-Soviet state was through rugby was amazing," says Meurant, proud that several went on to play for the Lelos national side, a team that now rates in the top 7-8 in Europe.
A Barbarian for more than 20 years, Meurant is a regular at the annual Fun Day, and last year his grand-daughter was in one of the school teams he was looking after. He helped Bryan Craies a few seasons ago with middleweight rugby coaching.
"It's a great honour to be a member. The best thing about it is that you don't have to be a 'flash-harry' player to be a member, which I never was. It allows all sorts of rugby people to become members, for the right reasons."