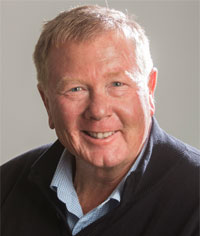 Not to be confused with the North Harbour Barbarian member of the same name, Bruce Cameron of the Bay of Plenty is still fully involved in rugby, well over two decades since he hung up his boots.
The 55-year-old is one of 17 Bay of Plenty Baabaas, and will be in the thick of it at next month's second annual fun day at the Paengaroa club, Cameron's old Eastern Districts club.
Great mates with Ray Reardon and the late John Drake, Cameron was made a Barbarian "about six or seven years ago" and says the honour came as something of a shock.
A Te Puke man through and through, Cameron played for East Coast in 1977 in his first year out of King's College before racking up 81 games for Bay of Plenty from 1978-88 as a prop who could play both sides of the scrum, often alongside All Black Hika Reid, and an occasional fill-in for the second-row.
"I was probably the shortest lock in the NPC," he quips. "I was a provincial hack."
Too modest by half, Cameron actually played for the New Zealand Juniors in 1980 and sat on the bench in a 1981 All Blacks trial. He had the distinction, almost impossible to imagine these days, of twice playing against the touring Lions, not to mention facing the Springboks and Wallabies for his union and playing for the Ranfurly Shield.
There is a famous old photo from 1983 which shows Cameron and his Manawatu foe Mark Shaw sorting out control of the ruck in, ahem, emphatic fashion. The zambuk is shown throwing ice and water over the pair!
Did that stop the stoush?
"It stopped real quick after that. You can imagine having ice cubes running down the back of your neck. They should always have a bucket of ice on the sideline now!"
Immersing himself in his myriad business interests, including growing kiwifruit, Cameron served as Steamers manager and on the union council as deputy chairman in 1993. Following a break from the game, he returned to help bail out the Bay of Plenty union, which was facing the wall financially in 2008. That led to his elevation to the NZRU board as its northern zone rep in 2012, work on which he thrives.
"If you were ever inclined to indulge in self-interest, you'd be found out as quick as lightning and would suffer the appropriate outcome! It's challenging and exciting. We're driven by the winning teams' philosophy and we cannot forget the community game, which is totally relevant to the passion which the Barbarians have," he says, paying tribute to the club culture and its ability to connect with rugby people around the provinces.
"To me, going into the Barbarians clubrooms now, it's as warm and welcoming as going into my old Eastern Districts club."
Cameron had the honour of presenting another top Te Puke rugby man – Tanerau Latimer – with his greenstone mere for his 100th Super Rugby game earlier this season.