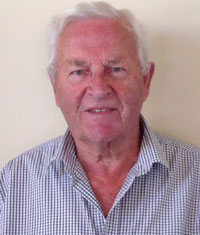 Colin McDonald may split his time between Auckland and Wanaka these days, but he has no divided loyalties.
"I'll still be a Canterbury rugby man," declares the 82-year-old. "That won't change."
No issues there. He did, after all, play 57 games on the wing (or centre) for Canterbury from 1954-59, taking in part of a fine Ranfurly Shield era for the union. He might just have been unlucky to have missed the All Blacks, especially when you consider three other Canterbury wings from the era – Allan Elsom, Morrie Dixon and Ross Smith – were selected. McDonald himself is too modest to thrust himself forward, but he did appear in two All Blacks trials. It was a very strong Canterbury side – he was on occasion the sole non-All Black – but given the proclivity to 10-man rugby that plagued much of the 1950s, he did rather well to score 23 tries for the union, including a hat-trick against North Auckland in a Shield defence.
"On a couple of occasions I was interviewed and asked whether I enjoyed the game and I replied 'Well, I only saw the ball once!'"
He says one of his real career highlights was scoring two tries for the Barbarians against Auckland in 1955 at Eden Park: "It was a great thrill to be selected out of the blue."
McDonald believes he was made a Barbarian in the 1970s and describes membership as an honour. He was also chairman of the Cantabrians for a time.
After his playing days he coached at junior level for his Marist club, but a large family and business commitments took up most of his time. He took over the running of his father's grain and seed business. But he and his wife Judy were forced to uproot from his home near Hagley Oval after the Christchurch earthquake of 2011.
"Now that we are living mostly in Auckland, I'll take the opportunity to get along to one or two of the Barbarians dos at the Eden Park clubrooms," he says.
McDonald has taken particular pride, though, in Canterbury's unprecedented run of six provincial titles.
"I still have acquaintances on the rugby union and they are a pretty devoted lot."