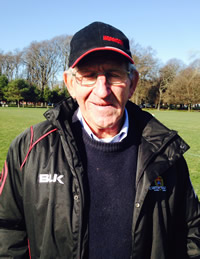 Fergie McCormick might be 76, but he has only recently stepped away from an active role in the game.
The former All Blacks fullback, one of a clutch of Canterbury Barbarians, lives on a lifestyle block on the outskirts of Christchurch with his partner Tyna Charles, and was until last year still coaching women's club rugby.
A life member of the Linwood club and the Canterbury union, and a Cantabrians member, as is fellow Barbarian Tane Norton, you will still find McCormick sideline most winter Saturdays, watching his daughter Jess play for High School Old Boys. Of course, he was on hand for the 'Crying Towel' clash between Linwood and Christchurch, still one of the bigger games on the Canterbury metro club calendar.
Though made a Barbarian member in the 1990s, McCormick's ties with the club go back to the 1960s.
"We would fly up to Auckland in an old DC3, play for the Baabaas, and then fly back the DC3 that night."
He endorses all that the club stands for, though he hasn't yet had a chance to sample the hospitality at the clubrooms. McCormick was mightily impressed with the fine 34-17 win for the club over the Maori All Blacks last month.
"It was a good win. Let's be honest, they were a bunch of talented footballers. They got it all together quickly, and some of them played bloody well. Tom Taylor (son of Barbarian Warwick) stepped up."
McCormick played 44 games, including 16 tests for the All Blacks, from 1965-71, while his 222 appearance record for Canterbury will surely stand for all time. No fullback has bettered his 310 first-class games in New Zealand rugby, while just nine men, four of them Barbarians, have scored more than his 2065 points in this country.
"In my day, we played a test and then for our club or province the next day. It is unheard of now," he says.
His world record of 24 points (at the time) for the All Blacks against Wales in 1969 ranks as a career highlight.
"We had a very good team in 1969. They got close enough for me to kick the goals!"
It is apt to close with some of McCormick's views on the game from his 1976 biography, Fergie, penned by the late Alex Veysey. Many of you will nod sagely as they resonate nearly 40 years later:
"You forget the All Blacks and you play every game for your club with everything you've got. The club is everything and any player who saves himself for something bigger is no player at all…"
"Any fullback, or any rugby player, who can't kick with both feet isn't even half a player."
Hear, hear…