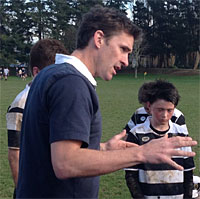 John Leslie is one of nine Barbarians residing in Otago and is the latest to join the club father-son list with his father, former All Blacks captain Andy Leslie.
The 42-year-old has been retired from active play for almost a decade, but these days keeps his hand in as coach of his son Jack's Southern club Under 13 side and club captain of the junior section. That followed several seasons coaching the University premiers and colts in tandem with his good mate Josh Kronfeld.
He heads the Leslie Rugby operation – www.leslierugby.co.nz – which supplies rugby product (balls, jerseys, etc.) to clubs and schools as befitting their grassroots focus. Leslie Rugby is the official ball of 13 unions round the country and has given away over 100,000 balls over the years. He also helps run coaching clinics which are high on fun and skills, involving current and former stars of the game.
Leslie carved out a fine career, playing 173 games in New Zealand first-class rugby for the Highlanders, Otago, New Zealand Universities and the South Island from 1991-2004 with an hiatus from 1999-2002 when he appeared for Scotland, alongside brother Martin, and the Newcastle and Northampton clubs in England. Close to the top of his highlight reel would be the 1998 NPC, where he helped Otago to glory, and the 1999 Five Nations, which Scotland won, and in which Leslie registered one of the fastest tries in international history, a 10- second job from the kickoff against Wales.
Made a Barbarian last year, Leslie is fully cognisant of the club's storied history and ideals. He played one game for the NZ Barbarians, a non first-class fixture against the All Blacks in the mid-1990s. He would have loved to have played for the UK Barbarians during his time in the north, but it was not to be.
"I've been a Barbarian for two years and whilst living in the south it can be a bit removed, I really appreciate the information. I enjoy being part of the club and I would love to strengthen my involvement there," he says.
"The Barbarians and what they stood for always appealed to me… I do love the culture of the club to give the ball some air. These days a lot of game plans are mirrors of each other. That's where the Barbarians are wonderful. They encourage daredevil rugby, but also open up innovation and opportunity, especially through school and club rugby."
Leslie is married to Carmel and, along with Jack, is father to 10-year-old Amaya.