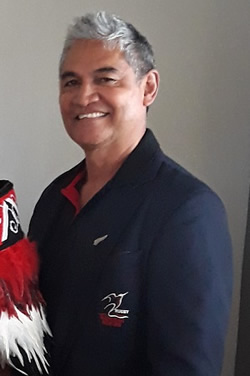 When we talk of the great rugby men of the Manukau club, we talk of, inter alia, 'Bear' Thomas, Mackie Herewini, Pat Walsh, Roger Whatman, Alby Pryor and Frank Bunce.
Jonathan Tukerangi is fit to rank in that august company.
The 56-year-old joined Rovers in 1972 and is now a life member and club vice-president, having just come off more than decade as the Manukau delegate to the Auckland Rugby Union. Living near Manukau's Williams Park base, Tukerangi is "the first one they ring if the alarm goes off."
He came through the junior grades, drawing inspiration from Manukau's last Gallaher Shield title in 1973, and entered the senior ranks after leaving Mangere College. A contemporary of Frank Bunce for both school and club, the pair would have won an Under 19 club title with Manukau in 1980 were it not for the fielding of an ineligible player. As it was, Tukerangi soon afterwards embarked on a long senior career (1982-96), which saw him rack up well over 200 games for the Manukau premiers as a fine attacking fullback. The 1980s was a fine era for Rovers, who could field the likes of the Lidgards, the Thomases, the Bunces and Nicky Williams, cracking the top four. Tukerangi himself was perhaps unlucky to be playing at a time where his competition for the Auckland team included Lindsay Harris, Matthew Ridge, Richard Sigley, Shane Howarth and Petaia Nee-Nee. He still played many times for the Auckland Colts, Bs, Maori, and once for an Auckland XV.
"Even when I played, it was standing room only at Rovers," he says.
He is grateful to patron Sir Bryan 'Beegee' Williams for his Barbarians nomination, having been inducted into the Barbarians club in 2015.
"He was my childhood hero, so to have him acknowledge me as deserving… I thought it was only for the sporting elite. He thought I had played for Auckland A at some stage, but I said, 'No, you never picked me, Beegee!' I joked that I needed to go to Ponsonby or Marist to get in," Tukerangi says.
He is keen to participate in the Baabaas bowls events, especially the Pat Walsh Memorial Day, perhaps with his old mate Bunce. Back in the day, he turned out for the Barbarians in those memorable fixtures against school First XVs.
"I haven't been able to fulfil my obligations to the club to the fullest, but I try and get across to the clubrooms when there are functions at the park."
An investigator for Metrix Info, where he handles power meter enquiries over a wide region, Tukerangi is married with four kids and three grandchildren. Both sons played for Rovers. Walter is now the director of rugby at One Tree Hill College, whose First XV is newly promoted into Auckland's 1A grade.
Tukerangi has come a long way in rugby, but still holds fast to the hands up, not out, attitude espoused by 'Bear' Thomas and Alby Pryor.