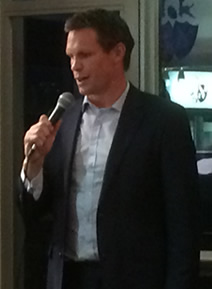 Josh Blackie represents the new breed of Barbarian: young, just out of his playing days, still heavily involved in the game, and keen to partake in the club's activities as much as possible. Some found it amusing that, with the recent induction of the likes of Blackie, Brent Ward, Kevin Senio, David Gibson, Ben Willis, and Gavin Williams, the average age of the club would drop a few years.
"I've been up to the clubrooms in the last couple of years as a non-member. They open the doors to us younger guys. It's obviously a very prestigious club, so if I can contribute in any way possible to uphold the legacy…" he says.
He did play one first-class match for the NZ Barbarians, the celebrated 2003 clash at Twickenham against England, where his teammates included Barbarian members Taine Randell, Tanner Vili, and Ben Willis.
"In those invitation games, you get to mix and mingle with guys you wouldn't normally, so that's a benefit," says Blackie, who is happy to be retired after several seasons plying his trade for Kobe Kobelco Steelers in Japan and a fine career in New Zealand, where his pace and work-rate were central to his success as a professional.
"I haven't even looked at a pair of boots since Japan. I find it enjoyable having my weekends back and not feeling too sore on a Sunday. I don't want to go back to that place!"
Having said that, he did have a crack at his first marathon earlier this month – in Hawke's Bay – so he still keeps in good nick. Then he was off to London in his role as member services manager for the International Rugby Players' Association (IRPA), while he also helps with the Pacific Island Players' Association (PIPA). Blackie is a busy man, and is switched on. He is keen to help out with the Barbarians as much as he can.
"The clubrooms capture that ethos and spirit and camaraderie of rugby. It's enjoyable to come back and be involved in something like that."