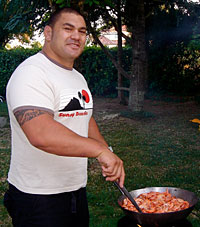 All Black, scrum coach, TV pundit, builder, real estate agent, pig hunter, artist, father and husband.
Such are the many strings to the Kees Meeuws bow. The 40-year-old former All Blacks prop, who played 42 tests from 1998-2004 and scored no less than 10 tries, was made a Barbarian just last year, but was very proud to receive his letter of nomination, and swift to accept.
"I played a few games for the Barbarians early in my career. What I like is how the club gives back to the community. In Auckland, those Barbarians-schools games gave back to the grassroots," says Meeuws, who is gearing up to head to Bermuda with the Classic All Blacks.
A qualified builder, Meeuws has now entered the real estate world with Metro Realty in Dunedin. He knows what to look for in houses and can advise vendors on what work they should be doing.
Rugby, after 20 years when it has been a large chunk of his life, is going on hold, while he sinks his teeth into his new line of work. Four of his six children live in Dunedin with he and his wife Juanita.
He says he would like to perhaps coach again, at either club or ITM Cup level, one day. He has been scrum coach with Otago and the Highlanders, helping his old mate Tony Brown out with the former.
"I need to take a step back from rugby. I need to just enjoy watching rugby for awhile."
That means keeping tabs on his old French club Castres, who won the Top 14 last year, and following his Southern club, Otago, the Highlanders, Auckland, the Blues and, of course, the All Blacks. If pressed, he says Otago and Auckland are his favourite teams, but when they play each other, he roots for the underdog, invariably Otago.
He thoroughly enjoyed his time as a scrum coach, not to mention talking rugby on the box, but he had to suck it in when hanging the boots up.
"I could have carried on, but we had a lack of front-rowers in Otago and I thought I would be holding up younger guys."
After several seasons in France (and Llanelli) after his All Blacks days, there is little Meeuws does not know or has not seen in the dark place that is the front-row.
"I couldn't implement too many of them in New Zealand or I'd get sent off!" he quips.
One of 10 Otago-based Barbarians, Meeuws still runs into several of them around the traps, including old colleagues Adrian Cashmore and good mate John Leslie, along with coach of the victorious 1998 Otago NPC side, Tony Gilbert.
"Rugby is a small world and even smaller in Dunedin, so we always bump into each other," says Meeuws.