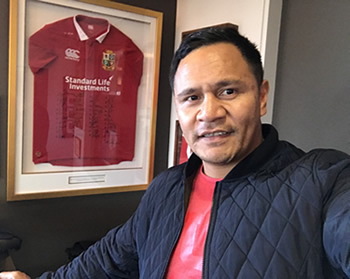 Kevin Senio is the new breed of Barbarian: upwardly mobile, not long out of his playing days, active in coaching, social media savvy and yet with a good appreciation of the club's history and what it stands for.
The 40-year-old former All Blacks halfback joined the Barbarians in 2015, after his professional playing days in France drew to a close. He briefly strapped on the boots for Ponsonby seniors but has since taken up the clipboard, guiding Ponies, as assistant coach, to the 2018 Gallaher Shield triumph, their first in seven years.
Senio stepped into Mark Moore's shoes as Barbarians club captain at the 2017 AGM, and has loved his active involvement within the club.
"It's been good reconnecting and understanding the values and vision of the club, trying to implement that into a couple of projects during the year, and observing and supporting where I can. It's been satisfying as well as enjoyable."
He helped coach the NZ Barbarians Auckland Under 18 Schools team, which had an August game against the Northland Vikings Under 18s in Wellsford, while he was on hand as one of the club representatives for the NZ Barbarians Schools against their Fijian counterparts in Wellington.
Senio says it is rewarding watching some of the youngsters wearing the Barbarians jersey gain knowledge of what the club is about.
Along with the likes of Craig Glendinning and Monalisa Urquhart – all 40-somethings – Senio is one of the younger committee members.
"It's been a good group to work with. The calibre and experience on the committee means there is a real acceptance to take in what's relevant and current with new ideas," he says.
Some of his work for the Barbarians is an extension of his role as players services manager for the New Zealand Rugby Players' Association.
While Senio played for four provinces and two franchises, he still calls Auckland home and was as happy as any staunch blue and whites fan after last month's Mitre 10 Cup Premiership victory.
"I'm a local boy and it's great to see what Auckland's win has done for the local community. I understand the challenges in the landscape, but it was a delight to watch."