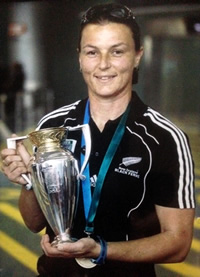 One of a clutch of Black Ferns who are now Barbarian members, Melissa Ruscoe has a long list of achievements, highlighted by the rare feat of captaining her country in two different sports.
The 40-year-old had 23 caps for the Football Ferns before switching codes at the age of 24, where she proceeded to master the intricacies of loose forward play, win two Rugby World Cups, the 2005 NZRU women's player of the year and the MNZM honour in 2011 for services to rugby.
Ruscoe says her nomination to join the Barbarians last year was an unexpected honour.
"I had to read the letter a couple of times. I'd heard of the NZ Barbarians, of course, and knew some women were members, but didn't think about it myself until the letter came through, which was exciting. You don't think about those kinds of accolades," says Ruscoe, a Christchurch teacher at Hillmorton High School.
She took the chance to catch up with some of her old Black Ferns teammates in the October 22 Bledisloe at the clubrooms, and was suitably impressed with our home base.
Ruscoe played 22 tests for the Black Ferns out of Canterbury, mainly as a skilled, accurate blindside. She had already acquired the nickname 'Fraggle' from her football days, but it is very much a term of endearment rather than any lack of respect for this leader.
"You always have that connection when you see the (rugby) girls again. You might not see them a lot, but it's like it is yesterday. Everyone still keeps in touch via Facebook," she says.
Whilst a long-time Canterbury resident, she hails from Taranaki, and the amber and blacks still command her support these days.
"You always support where you come from, so it's black and yellow, and the Chiefs, because I went to uni there. I'm not a one-eyed Cantabrian," Ruscoe quips.
The Blacks Ferns have a royal show of lifting their fifth World Cup this August in Ireland, and first since Ruscoe led them to glory in 2010.
"I think the girls will definitely be back up there. We didn't see ourselves as world champs when we entered the World Cup. You have to earn that right. I'm sure the girls will do us proud and they've got some exciting talent."