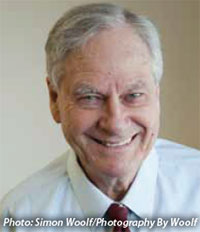 Mick Bremner, All Black, Barbarian, Centurion, Cantabrian, wool exporter, et cetera, has packed a lot into his 82 years.
Still living in the capital and as lively as ever on the phone, Selwyn George 'Mick' Bremner is not idle, and still puts in the hours at his old family business. He also finds time to get to Westpac Stadium to keep a close eye on the fortunes of the Hurricanes and Wellington Lions.
Though he was made a Barbarian in 1966, aged just 35, his playing days with the club stretched back to 1951. He had several first-class games for the Barbarians, and recalls them all with fondness.
"They were wonderful with me in my early days. They had the Kiwis Army team influence with their open style of play and they were special people, as far as I'm concerned," says Bremner.
Indeed, he believes he first forced his way into the All Blacks, in 1952, thanks to a hat-trick of tries for the Barbarians against Auckland among a star-studded backline that included Percy Tetzlaff, Johnny Smith, Eric Boggs and Bob Scott. He speaks highly of the influence too of men such as the late Sir Fred Allen and Johnny Simpson and their influence on his rugby thinking as a five-eighth. He recently sent a photo to the club of the 1954 Barbarians who played a Bay of Plenty XV in Tauranga.
Bremner played in a lot of fine championship-winning sides through his career at four different provinces: Auckland, Wellington, Canterbury and Manawatu, not forgetting his distinguished career for New Zealand Universities.
His All Blacks career of 18 matches, including two tests, spawned the nickname 'The Olympic All Black,' as he played only in 1952 (Helsinki), 1956 (Melbourne) and 1960 (Rome). On the 1960 tour of South Africa he was vice-captain to Wilson Whineray.
He has visited the current Eden Park clubrooms once, after Sir Fred Allen's funeral in 2012, and was suitably impressed: "It was beautiful. It was like going into Savile Row!"
Do not just think Bremner is a rugby man only. A life member of the Halberg Trust, he was a Brabin Cup rep cricketer, a tennis player of note and a swimmer and rower. His rugby service has included stints as president of the Victoria University club (and life membership), the Centurions (currently patron), president of the Wellington union in 1995, while he coached Victoria University and Onslow in the 1960s and '70s.
Bremner believes he is possibly a distant relative of fellow Barbarian Robbie Bremner, while he was a cousin of the late Baabaa Doug Bremner.