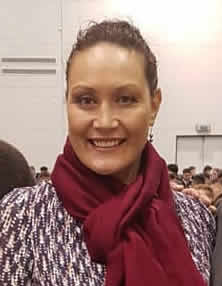 Monalisa Urquhart (nee Codling) is still breaking new ground.
The 41-year-old is the first woman to serve on the Barbarians committee and indeed is the first member to give birth. She now has two boys, Michael and George, with husband, actor and teacher Gerald Urquhart. But she only physically missed one committee meeting in 2018. No problems. Conference call. Such is the committee's embrace of new technology.
She was a hard-nosed lock for the Black Ferns in 30 tests from 1998-2010, winning no less than four Women's Rugby World Cups, not to mention multiple provincial titles with the Auckland Storm and club titles with College Rifles. In 2003 she was adjudged New Zealand women's player of the year.
Joining the Barbarians in 2015, among the second intake of lady members, Urquhart has thrown herself into the club activities, and loves it. In 2017 she joined the hard-working and increasingly diverse committee.
"It's just been a really lovely environment. I took an hiatus from a rugby for a few years. I got a bit stale. But I was ready to dip my toes back in. I love the values of the club helping the youth. For me, with a young family, it's been a good base. I like the diversity and hanging out with rugby people," she says.
Her and many of her old Black Ferns mates have many stories to tell to add to the rugby tales of the men. There are now 16 lady members, no less than 11 from that trailblazing world champion 1998 Black Ferns.
But do not think for a moment that Urquhart is just some hard-out, obsessed rugby chick who can only talk on one subject. She has a wide range of interests, loves to paint, having had works commissioned, enjoys music, travel, watching basketball and fully embraces technology, at least via Facebook and What's App. Twitter not so much.
She works for the British Council in its Auckland office as the finance and operations manager. The birth of George last month means she has taken some leave, but there are projects in the pipelines, so she will not be fulltime at home for long.
Last year she, among others, enjoyed representing the Barbarians at the Top 4 tournament in Palmerston North. Her suggestion led to the awarding of an MVP from the girls' event, which went to Kiriana Nolan of Hamilton GHS. Urquhart stepped in for Ron Williams to speak at the Friday night dinner at the Top 4. It capped a big year, having earlier received her Black Ferns cap, an emotional occasion.
She has a voice and the committee hears it. Urquhart has proven herself a worthy Barbarian. She is not just a staunch advocate of women's rugby, in an unprecedented growth period, but for all levels of the game. We love having her.