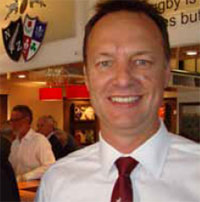 Nick Sheppard was inducted into the Barbarians club in late 2011, and describes his membership as "a huge honour."
The 45-year-old lives in North Harbour these days but is a born-and-bred Puke boy, having gone through Pukekohe High School and played his early rugby at the Pukekohe club.
Training as a PE teacher, Nick played senior footy at the College Rifles club in Auckland, and taught at St Kentigern College from 1992-99. He coached the First XV from 1995-98, taking that side to two Auckland 1A grand finals, its first ever trips to the deciders. That was possibly the start of St Kent's time as a successful rugby school.
In 1999-2000 Nick coached the Auckland Secondary Schools side to two undefeated seasons before taking the helm at his old Pukekohe club. In 2004 he assisted the seniors to the championship before accepting the post as chief executive of the Counties Manukau union. He oversaw a tricky transition as the Steelers were promoted from the old NPC division two back up with the big boys into what was then known as the Air New Zealand Cup. After a year working for the NZRU in 2008, Nick moved into his current employment as the high performance manager for the Blues in 2009. Maybe now we are seeing the fruits of his work through all three Blues unions, with the likes of Charlie Piutau, Ofa Tu'ungafasi and Steven Luatua winning their spurs.
No one can doubt Nick's rugby pedigree. His younger brother Dean played 71 games as a fullback for Counties Manukau in the 1990s, while his father Eion turned out in 40 games for Counties in the 1960s. His grandfather also played for Franklin in the pre-Counties days, making for three generations of Counties rugby men in the Sheppard family.
Nick and his wife Tanya have two kids: Thomas, 14, and Emma, 11. He loves being a Barbarian and has tried to involve himself as much as time permits, getting along to the annual fun days, for instance.
"I've enjoyed every minute of it and I think it's a great way to continue the friendships and camaraderie that rugby creates. The Barbarians are a great vehicle for those traditions.
"The (clubrooms) are a fantastic facility. It's a real legacy building for the future generations of the Barbarians club. To all those who were able to put that in place, they are to be congratulated. That facility will hold the club in good stead for decades," he says.