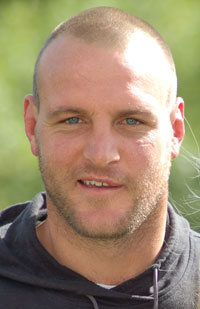 Peter Rowe is one of just two Barbarians based in Wanganui and one of just a clutch of club members who have not yet hung up the boots.
The 32-year-old may also be the youngest Barbarian, being a matter of months younger than Richie McCaw and more than two years younger than Keven Mealamu.
Rowe has racked up 89 games for Wanganui and is the heart and soul of the Heartland Championship union's pack. He is the quintessential openside who leads by example. On a wider stage, he has captained the national Heartland XV and twice won the Heartland player of the year gong.
Inducted as a Barbarian in his late 20s, Rowe was always aware of some of the club's history.
"My father and uncle knew Jack Bourke well. I grew up listening to all the stories about 'The House that Jack Built.' So it was a great honour when the invite came and I jumped on it," says Rowe, who adds that he would love to come up and sample the unique ambiance of our clubrooms in Auckland.
The sheep and beef farmer from Raetihi plays his club footy for Ruapehu, for whom he has won several Wanganui premier titles, not to mention three Meads Cups for his union. He gets busy towards the end of the rep season, when docking takes hold. There isn't a lot of time to indulge his pig-hunting passion, when he has the farm work, constant training and being a husband to Emma and father to three kids under the age of seven.
Rowe has his sights set on reaching a century of games for Wanganui, so he is not done just yet.
"I'm still enjoying it and fronting, so if the body holds out I'll see how it goes. You're a long time not playing!"
But he does reflect on what has been a fine career.
"It goes fast. I remember when I first came on the scene as one of the young fellas and then I slowly became one of the old fellas!"
Richard Hurn is the other Wanganui Barbarian. Rowe knows the Marton rugby stalwart. Bill Osborne, one of the greats of Wanganui rugby, is Wellington-domiciled.