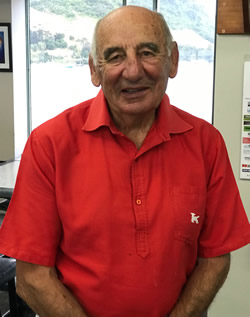 Ray Reardon has proven, over many years, his passion and unconditional support for rugby.
Even in his "late 70s", the Mt Maunganui man acts as a rallying point for Barbarians in the Bay of Plenty region and in Counties Manukau and Waikato, where he played his rep rugby in the 1960s. He has been a prominent presence at the two Bay of Plenty fun days in 2014-15, though he pays tribute to the sterling work of Ron Williams and his team.
Reardon is also a member of the Waikato-based Harlequins and was previously a Centurions member when he was living in Wellington.
"I'm a staunch advocate of the role the Barbarians and those clubs play in the community. I do whatever I can to assist in the development of the game at large. Our game is much bigger than simply bursting with pride at what the All Blacks have achieved," said Reardon.
"I don't get up to the clubrooms as regularly as I'd like, but I was there for the Barbarians-Maori game (in July)."
In his successful playing days, he was a hooker or prop and appeared for, at first, the Manurewa club, and Counties. He became great mates with Pat Walsh, and spoke at the late, great Barbarian's funeral in 2007. He also won selection in the Maori All Blacks.
Transferring to Hamilton in 1964, Reardon played for Waikato, alongside former Barbarians secretary John Cresswell, and then found himself in the capital in 1967.
"By then my boots had worn out and I got into coaching."
He took the Hutt Old Boys seniors for several seasons before trying his hand at administration with the Wellington union. Back to Auckland, he did his time with the Counties union before retiring to Mt Maunganui with wife June some 15 years ago.
Reardon worked for the Hurricane Wire and Pel Electric companies.
He still gets along to Bay Park Stadium at the Mount to follow the fortunes of the Bay of Plenty Steamers in the ITM Cup.
"I follow rugby closely. I try and support the local union. One of my sons – Russell – managed the Steamers under Kevin Schuler."
Ray Reardon, man of rugby.