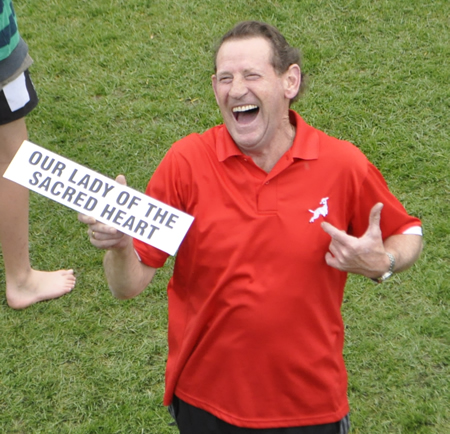 Roger Moore goes by the nickname 'Mad Dog' or even 'Double 07.'
He admits to being "60-something", but has given yeoman service to the Barbarian for more than 20 years, the last 18 as a committee member.
He is omnipresent at the fun days, organising, cajoling, cracking jokes. If one of the several Barbarians teams needs help, either with logistics or gear, he is invariably the man. You might find him in the clubrooms, where he will be introducing an assortment of company to our home base. It is a home base he had plenty to do with, as he was project manager, tapping into his property development expertise, for the premises, which were completed in 2010. He was in the thick of an era where Mike Cormack – "I miss him to bits" – and others fought hard to become an established part of the new Eden Park.
"Fancy the club having me around on the committee for 18 years, the poor sods!" jokes Moore, before reflecting in more serious fashion: "The Barbarian ethos and what we do is part of the history of rugby in New Zealand and we have some wonderful members who are very knowledgeable and put their hand up. This is a home of rugby."
Moore has bounced back from a health scare two years ago and is close to his playing weight of 81-82kg (some of us cannot say the same) as a pacy wing.
An old boy of Mt Albert Grammar School, with whom he won a 1A First XV title in 1964, Moore joined the strong Otahuhu club and appeared on the wing or at centre for the seniors from 1966-73, winning the 1969 Gallaher Shield. His teammates included the likes of Waka Nathan, Kevyn Male, Mackie Herewini, John Hart, Rocky Patterson, Ron Urlich and Peter Murdoch. A knee appeared to have ended his playing career until Nathan urged him to come out of retirement to play for the burgeoning Pakuranga club, which he did to good effect.
Moore was good enough to play for Auckland B and C and sat on the A bench for several games in the late 1960s. He also found time to play several games for the Barbarians over the years, even into the 1980s. Unwilling to fully step away from the game, he helped out with coaching at Pakuranga, Ardmore and Otahuhu. Now he is just as fully involved in the sport he loves.