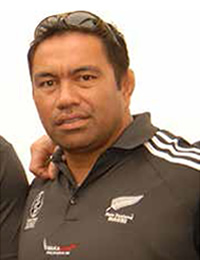 You might think that, at 42, Slade McFarland hung up the boots many rugby moons ago.
You would be quite wrong.
One of just a handful of Barbarians still actively playing the game, McFarland's senior career stretches back to 1990. He is into an extraordinary 26th season, and has now racked up close to 200 premier games for his beloved East Coast Bays. He has the double ton in his sights, but might struggle to top the 220 of fellow Barbarian Mark Anscombe or the nigh on 250 of Ian Coley.
Of course, he has already done plenty in his long career, winning a North Harbour premier club title with East Coast Bays in 1991, chalking up more than 100 games for North Harbour, as well as playing Super Rugby for the Chiefs and Crusaders, along with stints in Europe. The hooker was a Maori All Black and not far off the All Blacks radar in the late 1990s.
A dalliance with boxing has helped with his fitness to keep going in the senior rugby ranks.
"I like boxing. You don't have to run 100m," he jokes. "I still have the passion and am keen to teach the front-rowers, now that the laws have changed. A lot of the dark arts have returned from the 1990s. Then it was about how big you were and how far you could smash them backwards!" he says.
He learned plenty from men like Ron Williams, Graham Dowd, Walter Little and Frank Bunce – Barbarians all – when he started off as a raw bundle of power out of Rangitoto College.
These days, when he is not in the heart of the East Coast Bays scrum, you will find McFarland working as the North Harbour union's ITM Cup scrum coach or as one of the RDOs, giving back to the young ones and passing on his vast experience. We hope they are good listeners. It dovetails nicely with how he views the Barbarians.
McFarland was made a Barbarian in 2012 and has fully embraced his involvement, from turning out in games to coaching and helping at the fun days.
"I was very surprised to be inducted into the Barbarians. It's a real privilege. The club is about helping out at the next level and grassroots. That's what I've loved – the ethos about getting involved and sharing the knowledge as much as possible," he says, adding that he loves getting up to the clubrooms and bumping into all sorts of rugby people.
McFarland saw the start of a resurgence in North Harbour rugby in 2014, and would love nothing more than seeing this union, which turns 30 in 2015, again walk tall with the giants of provincial rugby. The same goes for his East Coast Bays club, once the strongest in the union and working hard to emerge from challenging times.
He lives not far from his work with his partner and two children, both of whom are fluent in French from his time playing near Paris.