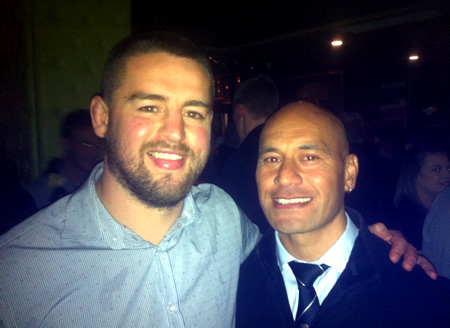 Tanner Vili was made a Barbarian last year and has since involved himself fully in club activities as one of the 'younger' brigade.
The 40-year-old former Manu Samoa, Hurricanes and Counties Manukau No 10/fullback is now making his mark in coaching, helping out with the Auckland Storm women and wherever else he is needed in the Auckland region.
His playing career only came to a halt relatively recently with the Grammar-Carlton club. Out of Tamaki College, he had previously starred for Teachers-Eastern when that club won its only Gallaher Shields in 1998-99. In fact, his solo try in the 1998 decider was one of the finest solo tries ever seen in a Gallaher decider. From 1996-2006 he appeared in 35 tests, and two Rugby World Cups, for Manu Samoa as a fine allround first five with a good rugby brain. In 2003, then playing for the Borders club in Scotland, he came off the bench for the NZ Barbarians in their landmark clash with England at Twickenham. Domestically, he also appeared for Wanganui after a stint with Japanese club Kintetsu.
In 2008 two pieces of Vili magic, in the form of a try and a massive drop goal, led Counties Manukau to a stirring win over Auckland in Pukekohe.
"It's great being a member and promoting the Barbarians club. I enjoy the networking and the ongoing friendships made throughout the years of playing footy. Connecting with old mates made during rugby, catching up with them, seeing where life has taken them, and meeting their partners and kids. The family culture is what I enjoy the most and everyone sharing their stories of the good ole days," says Vili, who you will often find at the clubrooms on match days.
"For me, the Barbarians means promoting all that is good in rugby, friendship, inspiration, respect, enjoyment and all that comes with being an allround rugby player on and off the field."
He especially enjoyed seeing live his old Hurricanes franchise break their Super Rugby drought on August 6.
"That was so sweet and what an occasion! It was a last minute trip and well worth it. It was a Hurricanes' reunion, so caught up with lots of mates that I hadn't seen for years. I coached the Auckland Storm that afternoon and then raced to the airport to catch the 6pm flight to Wellington and made it to the Cake Tin right on time for kickoff. The weather was atrocious but the atmosphere was awesome. There was no way we were going to lose that game!"
A family man, Vili has two children, daughter Tiella and son Keaton. Outside family and coaching, he has a number of projects on the go, including his latest role with Qualified Building Solutions Limited.