Webb Ellis luncheon
When: Friday May 2
Where: Hall of Legends, Gate B, North Stand, Eden Park
Time: 12.00pm assemble for 12.30pm start
Cost: Tickets $100.00 per person
Dress: Lounge suit/blazer and tie
All Barbarians are urged to support this luncheon.
One Barbarians table has two spare seats. Please contact the secretary if you would like to purchase one or both tickets.
Contact – John Cresswell at: 846-7241 or 021-703-904 or sec@brfc.co.nz
Warriors v Canberra Raiders
When: Saturday May 10 at 5.00pm
Tickets: $80.00 per ticket
At this stage there are 16 box tickets available and all tickets need to go before we will open the second box.
Please contact the secretary as soon as possible to get your tickets.
Phone: 846-7241 or 021-703-904
Email: sec@brfc.co.nz
Get in quickly, as you never know, you could be at Eden Park to see the Warriors win their first game on the park!
Primary schools Fun Day
Who: North Harbour, Auckland and Counties primary schools
When: Sunday May 25 from 8.30am
Where: Ngataringa Bay (Navy sports grounds), Devonport
This will be the 25th Barbarians rugby Fun Day event and we hope you will be able to take part again this year.
Historically, the Ngataringa Bay Fun Day has seen the biggest turn-out of Barbarians – young and old – year after year.
We hope you will be able join us again this year, not only for the Fun Day but to join us at the end of the programme for a celebratory drink to mark 25 years of a very successful event.
Bay of Plenty Primary Schools Fun Day
Who: Bay of Plenty primary schools
When: Wednesday June 18
Where: Paengaroa (Eastern Districts Rugby Club), Bay of Plenty
The Barbarians RFC has again been asked to run a fun day for Bay of Plenty primary schools at Paengaroa.
Ray Reardon is organising Bay of Plenty Barbarians, Brian Clarke Waikato Baabaas and a group of Auckland, North Harbour and Counties Baabaas will travel down for the event.
If you would like to participate, please let the secretary know and we will be pleased to add you to the list of volunteers.
The Chiefs players will be attending this year, adding a major bonus for all the BoP primary school children who will take part.
Grammar Old Boys RFC 100 years celebration
Details of the 100-year celebration of the Grammar Old Boys RFC are below..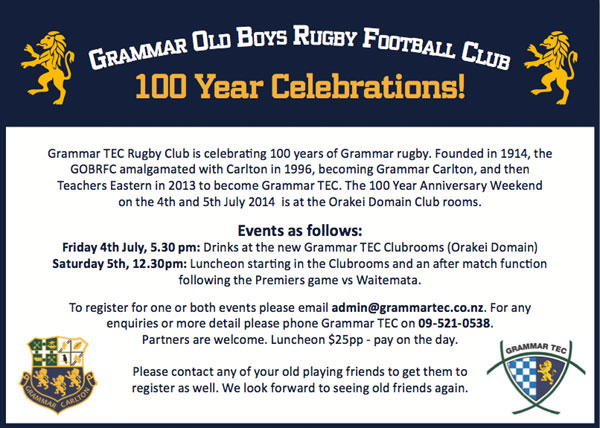 If you need more information, please ring – 09-521-0538
Ponsonby RFC 140th jubilee celebrations
When: Sunday June 2 at Western Springs, 2.30pm
An 'Over 30s' Barbarians RFC side has been assembled to play against a Ponsonby 'Over 30s' side. Everyone is invited.