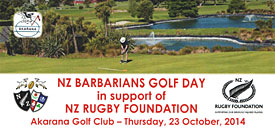 The NZ Barbarians RFC have agreed to support the NZ Rugby Foundation, who, in turn, supports our severely injured rugby players , by sponsoring a Golf tournament.
An Entry form and a Sponsorship form are below for your completion and return.
Rugby Foundation Golf Day entry form (PDF file)
Rugby Foundation Golf Day sponsorship form (PDF file)
The Barbarians are very pleased to be able to support the Foundation and to help them financially, for the marvellous work they do.
First, please assist us by providing sponsorship in any one or more of the categories listed on the Sponsorship form.
Alternatively, get your team together and complete the "Entry Form" and return it by Friday the 10 of October.
If you have any queries, please contact : The Secretary – email – sec@brfc.co.nz or Phone – 846 7241