2013 Annual General Meeting
A very successful 2013 AGM was held in the clubrooms on Wednesday November 27.
Some of the highlights of the meeting included the following:
There were 38 members present and 37 apologies.
The deaths of 12 members, who died during the year, were noted with a minute's silence.
28 new members were welcomed into the club.
The President's report – a full copy of the report can be read on the club website.
Club captain's report – a full copy of the report can also be read on the club website.
Mike Mills completed his successful term of two years as President but continues to serve on the committee as Past President.
Bryan Williams was elected President for the next two year term.
Neil Cullimore remains a Vice-President.
Ron Williams was elected a Vice-President.
Grant McCurrach (Treasurer), Mark Moore (Club captain) and John Cresswell (Secretary) were re-elected to their respective positions.
Bryan Craies retired from the committee and was thanked for his valued contribution to the club over many years.
Ken Parry and Terry Horne were elected to the management committee, joining Richard Fry, Campbell Burnes and Roger Moore.
Alan Montgomery remains honorary solicitor.
Dean Paddy received the Albert Storey Trophy for his valued service to the club.
Rodney Doidge was elected a life member of the club for his considerable contribution to the Barbarians over many years.
Annual Christmas function
The Christmas function will be held in the Clubrooms on Friday December 6 from 6.00pm.
This is a special night, as not only is it our Christmas function, it is an opportunity to include members' wives and very importantly, wives of members who have died.
While we have a list of the names of widows of members who have died, it is not complete so, if you have contact with members' widows, please invite them to attend and let us have their contact details to add to our 'contacts' list.
Dean Paddy and his team have gone to a lot of trouble to prepare for the Christmas night and amongst other things, have arranged a 'wine tasting'. Also, if you have a guitar, bring it along and start up a 'sing-along'.
Clubrooms – Club nights
The clubrooms will be closed over the Christmas period. The December 6 (Christmas function night) will be the last club night for 2013.
We will let you know when the opening night for 2014 will be confirmed. It is likely to be at the end of January.
Eden Park programme of events
The clubrooms will be open for the following events. Members will be given the opportunity to purchase tickets in the club boxes for the non-rugby games (all tickets in the club boxes for the 2014 rugby programme have been sold).
To cover costs, we must sell all 32 club box tickets for non-rugby events. Members will be given the first option to buy tickets.
Thursday December 26: Black Caps v West Indies (ODI)
Saturday January 11: Black Caps v West Indies (T20)
Saturday January 25: Black Caps v India (ODI)
Saturday February 1: Wellington Phoenix v Adelaide (A-League soccer)
Thursday to Monday February 6-10: Black Caps v India (Test)
Saturday/Sunday February 15-16: NRL 9s (League)
Friday February 28: Blues v Crusaders (Super Rugby)
Saturday March 22: Blues v Cheetahs (Super Rugby)
Saturday March 29: Blues v Highlanders (Super Rugby)
Friday April 25: Blues v Waratahs (Super Rugby)
Friday May 2: Blues v Reds (Super Rugby)
Saturday May 31: Blues v Hurricanes (Super Rugby)
Friday July 11: Blues v Chiefs (Super Rugby)
There are also three Warriors games scheduled – dates to be confirmed
Baabaas and the SAS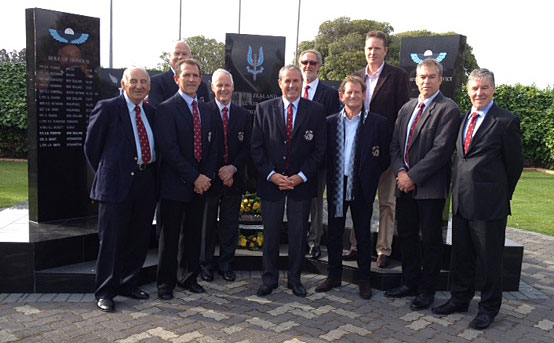 This photo was taken at the SAS base in Papakura and features nine Barbarians, including President Mike Mills (centre).
Via Barbarian Malcolm Hood, a contingent of SAS conference delegates attended the clubrooms on September 4 for the Auckland v Counties Manukau ITM Cup game. They enjoyed the experience so much that an invitation for a reciprocal visit by the Barbarians management committee was extended by Lt. Col. Karl Cummins.
Last month some of the committee took up that offer and were royally treated to a tour of the base, an in-depth presentation of the history and achievements of the NZ SAS and a very enjoyable social hour followed by a meal. It was an amazing night with an impressive group of people.